flyguys Five Favourite Fall Fly Fishing Facsimiles
5 Proven Fall Fly Patterns
(#5)
– Flashy Boatman –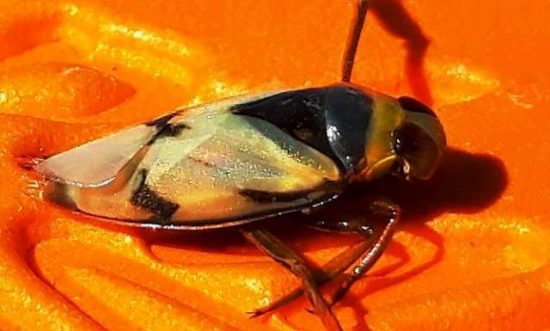 ---
In the beautiful BC Interior the Water boatman is an important part of a trout's diet, and therefore an imporatant fly pattern for fly fishers.
Water Boatmen have no gills so must frequently swim to the surface to grab a bubble of air and swim back down where they survive by drawing oxygen from the bubble while they are underwater. To accomplish this they use their strong paddle like hind legs like oars to carry the bubble on their body surface or under their wings, which not surprisingly makes for quick but erratic swimming. The bubble often gives the boatman a very shiny appearance, a trait that should not be over looked by fly fishermen, and is certainly not overlooked by the Flashy Boatman!
Water boatmen are very common in most trout waters and available to fish year round. However, they are largely ignored by trout except during their mating frenzy in the early spring at or near ice off, and again in the late fall during their migratory flights. In the fall, around the first frosts, they fly off on a migratory flight dispersing themselves to other waters. At the end of their flight they splash down like rain drops into any part of a lake, stunned for a few seconds they recover and swim off to the safety of the shallows. It is during these times that the boatman has the trout's full attention, and the observant fly fisher focusing on this aquatic bug now will reap the rewards.
Depending on depth of water and the presentation you are trying to achieve, both floating and sinking lines can be used to fish this pattern.
A floating line with a short leader can be used to present the Flashy Boatmen in water up to about 10 feet. A sinking dressing, sinking tippet or weighted leader can help get this pattern to the desired depth, and aid in representing the boatman's erratic movement while retrieving.
To present in depths much greater than 10′ switch to the slow sinker type I or type II, again with a relatively short leader. When presenting this pattern with a sinking line dress the fly, leader and even a few feet of the wet line with floatant as this will help to imitate the boatman's the swim back down with an air bubble during your retrieve. Cast to where you suspect fish to be, let the undressed portion of the line sink until it begins to pull the fly under, and then retrieve with short jerks to imitate the fly struggling back down with a bubble of air. Pausing every 5 to 10 jerks will cause the fly to float back towards the surface further imitating it's struggle with the air bubble. The boatman is most vulnerable just after it picks up a bubble of air so be ready as trout usually strike the fly near the surface on or at the on it's way back down.
OK, here's how to tie the Flashy Boatman …
---
You can find more detailed information about Water Boatman on our everything Boatman page. 😉
BW2 Bloodworm | Status Quo Scud | WMD Blended Blood Leech | Flip Flop Damsel | Flashy Boatman | All Dressed ASB Cronie
---
Like our stuff? Subscribe by
Feed or

Email