flyguys Five Favourite Fall Fly Fishing Facsimiles
5 Proven Fall Fly Patterns
(#3)
– WMD Blended Blood Leech –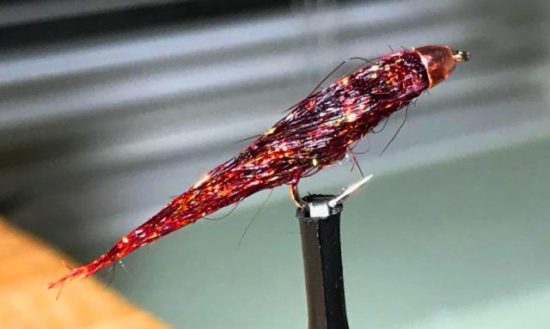 ---
The WMD Blended Blood Leech is flyguys Favourite Fall Fly Fishing Pattern #3! And although "Weapon of Mass Destruction" is a fitting name for these little power houses, the "Wire Meshed Dubbing" that makes up its core is also well represented by the term!
The WMD Blended Blood Leech is a super effective, super strong, and super simple fall fly pattern. The super strong and super simple are directly correlated to the wire dubbing brush body which is created by spinning blended dubbing between a wire loop. Instead of trying to explain the process here's a videos that showing a wire brush being whipped up on one of our older wire dubbing blocks …
For those interested in spinning up your own wire dubbing brushes we have a new style  available, a simplified design with newer materials that basically produces the same great outcome. For those that would prefer to purchase pre spun brushes we have those available as well! Either way please contact bcflyguys@gmail.com for more information. OK now back to our regular scheduled program ……. 🙂
The WMD Blended Blood Leech is an awesome fall fly fishing pattern in it's own right, fished on a floater suspended under an indicator or retrieved slowly through the water column or along the bottom with a slow sink. But another area where we have really found the WMD Blended Blood Leech to shine is when the fish are focused on tiny hyalella shrimp and, try as you might, you are struggling to imitate them successfully. When you find yourself in this situation tie on the WMD Blended Blood Leech and give it a go … you may be pleasantly surprised!
Here's how to tie the WMD Blended Blood Leech …….
---
---
You can find more detailed information about Leeches & Leech Fly Patterns on our everything Leech page. 😉
BW2 Bloodworm | Status Quo Scud | WMD Blended Blood Leech | Flip Flop Damsel | Flashy Boatman | All Dressed ASB Cronie
---
Like our stuff? Subscribe by
Feed or

Email