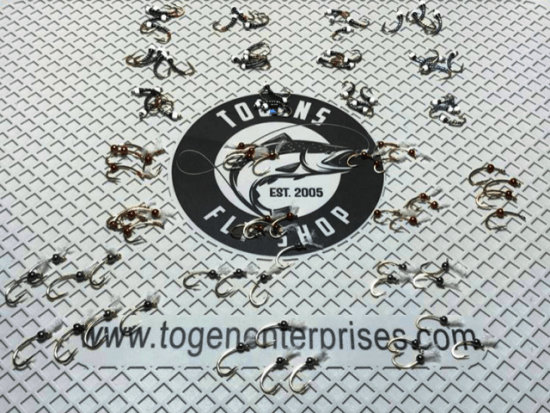 Togens Fly Shop
Fly Tying Hook & Bead Mat Review
Who knew something so very simple could be such a help at the tying bench! Have been working with the new hook and bead mat from Togens Fly Shop and it didn't take long to realize that it's now something I don't think I'll ever work without!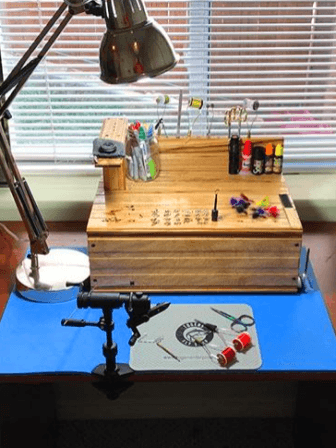 Today, a large majority of Stillwater flies incorporate beads. These beads can be on the "large" size (still a pain to handle) or on the absolute tiny, almost impossible to pick up size (AKA the 1/16s we use for our tiny mighty mites series chironomids). And when you tie as many chironomids as we do, these tiny beads, along with their corresponding tiny hooks, become a normal part of the tying process. A process which can sometimes be overly  time consuming, not because the flies are difficult to tie, but because often getting the beads mounted on the hooks can take as long as the tying itself! Enter the Togens Fly Tying Hook and Bead Mat.
The Togens Hook & Bead Mat measures about 10″x 12″, making for a very nice addition to the fly tying bench. I have mine placed just below the vice and the little holes in the mat allow me to pour out a couple dozen hooks and a couple dozen beads at a time without having to chase them all over my tying desk like I had to in my pre hook & bead mat days.  The mounting of the beads onto the hooks also becomes much easier with the hook & bead mat as I am now able to pick up the hook and scoop the bead right off the mat out of the little holes that are supporting it, then place the hook back down and move onto the next one never losing another hook or bead to the floor again!
And just because, here's a quick little video showing the Togens Hook & Bead Mat in use …
All in all this is something I would recommend to any fly tyer, and certainly something that will be a fixture at my tying bench for years to come! You can get your Fly Tying Hook & Bead Mat here. 🙂
Tightlines!
---
*** do you have a fishing or outdoors related product that you would like us to review on flyguys.net? Just email us with your idea and we will reply in short order!
*** for more flyguys.net original product reviews please hit up our complete product review list here!
---
---
Like our stuff? Subscribe by
Feed or

Email