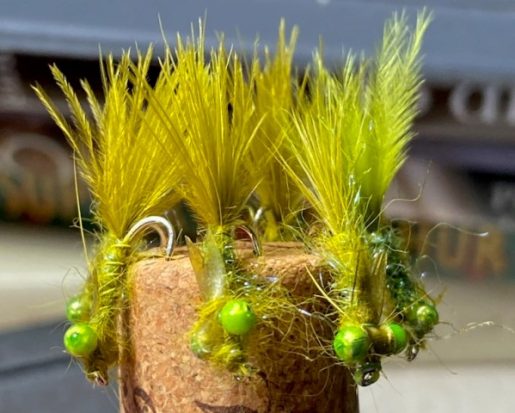 Electric Lettuce
Damselfly Nymph Fly Pattern
This gal is ideal for indicator fishing either in a static position or on wind drifts. The fly should be above or travel past weedy areas where damsels live. I usually suspend damsels about a foot under an indicator or a depth wherever you can see the migration path.
You can also fish it with a steady hand twist retrieve on a hover line or a naked floating line in shallow water. Sometimes pausing the retrieve or adding some erratic speed will elicit a strike. With chain bead eyes, this pattern will sink well and provide an erratic swimming motion.
At the tying desk I recommend mass production, first securing the bead eyes on all your hooks and locking it position in with Krazy Glue or Loctite. Apply the UV resin colour of your choice. You can even use model paint if you want a colour not available in a UV resin line-up. Be sure to make a final coat of Sally Hansen Hard as Nails to help maintain bead colour. Once all your hooks are prepared and dry, you are ready to produce your own squadron of these lively damsels.
Electric Lettuce Damselfly Nymph | Tying Materials:
Hook: Alec Jackson Crystal Covert #13 (or Daiichi 1760 #14)
Thread: UTC Ultra 70 (or eqivelant) – Chartreuse
Rib: UTC Wire (XSmall) – Olive
Dubbing: "Electric Lettuce" (1 part each Light Olive/Olive/Dark Olive Ice Dub)
Tail/Body: Marabou – Light Olive
Eyes: Bead Chain – Chartreuse
Wing Case: Scud Back – Olive
Electric Lettuce Damselfly Nymph | Tying Instructions:
Figure 8 tie bead chain eyes onto front of hook
Tie in marabou tail
Tie in wire rib
Wrap marabou forward to form body
Counter wrap rib forward
Tie in scud back
Dub in thorax
Pull scud back over dubbed thorax and tie off
Figure 8 dub over bead chain eyes
Whip finish
Electric Lettuce Damselfly Nymph | Tying Video …
---
Thanks for reading/watching folks!
… Blasty
---
*** for more, proven effective BC stillwater fly fishing patterns be sure to check out all of flies on our BCs best fly patterns index page!
*** if you're interested in custom tied, time tested & proven effective BC Interior fly patterns but would rather buy em than tie em, please check out our store!
---
---
Like our stuff? Subscribe by
Feed or

Email