Stuffed Venison Tenderloin Recipe
– on da Barbie 🙂 –
Venison Tenderloin is a premium cut of game meat that can be used in many of the same ways as beef, lamb or pork tenderloin. Venison however has a unique flavour that lends itself well to being marinated, smoked, roasted or grilled. Many venison recipes suggest wrapping tenderloin medallions in bacon or prosciutto but Susan takes a bit of a twist with this one by adding flavour from the inside out … and man does it work! 
Stuffed Venison Tenderloin Recipe | The Goods:
1 Venison Tenderloin
4 Strips of Bacon
4 Pieces of Provolone Cheese
Parmesan Cheese
4 Cloves Minced Garlic
½C Red Wine
2 Tbsp Olive Oil
¼C Brown Sugar
Montreal Steak Spice
Dried Oregano
Dried Rosemary
Salt & Pepper
Stuffed Venison Tenderloin Recipe | Cooking Directions:
Pre-heat BBQ to approx. 375 degrees F.  Rinse meat well.  Slice tenderloin lengthwise ¾ of the way through.
Mix together wine, minced garlic, olive oil, and brown sugar in a small sauce pan.  Heat only enough to dissolve sugar and have the flavour from the garlic infuse into the liquid.
Rub the meat, inside and out, with the steak spice, oregano, rosemary and salt & pepper.  Inject the liquid into the meat.   Sprinkle the inside of the tenderloin with Parmesan.  Line the inside of the meat with the slices of Provolone and Bacon.  Spoon the garlic from the pan inside the meat on top of the bacon.  And then finally tie up the tenderloin to keep the cheese, bacon and garlic in the middle while cooking.
Wrap stuffed and seasoned tenderloin in foil being sure to seal all sides.  Place on pre-heated BBQ grill.
* remember Venison should not be over cooked, and continues to cook for a few minutes after it is removed from the heat source, it is better on the rare side. 
Cook until rare, unwrap from foil and turn on grill to brown.  Remove from grill when a meat thermometer is reading medium rare.  Let rest on plate for a couple of minutes before slicing.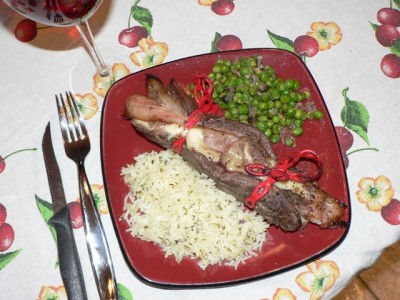 Susan's Stuffed & BBQ Venison Tenderloin – Ready to Eat!……. hope you enjoy and bon appitit!
---
*** got a fish or wild game recipe that you would like to share on flyguys.net? Just email us the details and we'll post it up for you!
*** for more delicious and organic BC wild fish & game recipes please view the complete list on our recipes index page!
---
Like our stuff? Subscribe by
Feed or

Email