Blood Clot Bloodworm
Chironomid Larvae Fly Pattern
Fall is here , Winter is near, I'm going fishin' ……. Sorry dear!

Yes it's that time of the year again! But before you head out, you really need to take a few minutes to check out Gord's latest & greatest … an innovative twist on his fall bloodworm fly fishing pattern … the Blood Clot Bloodworm fly!
Fall is soon to be with us and one of the staples for trout then, is the bloodworm. I'm going to share with you a fly I designed awhile back and have been holding pretty close to the vest, showing only a few people. After a bunch of modifications I think it's ready for the masses. The Bloodworm Blood Clot came about while observing bloodworms in a pond at work. Periodically I would see them out of their tubes and wriggling around in large numbers. I envisioned a trout coming along and vacuuming up a mouthful. The theory is, if trout like bloodworms, let's give 'em a plateful. This fly is a little tricky to tie but just because of the material wrangling required. Fish this fly suspended just off bottom. Real effective after a storm has whipped up the lake.
Blood Clot Bloodworm Fly | Material List: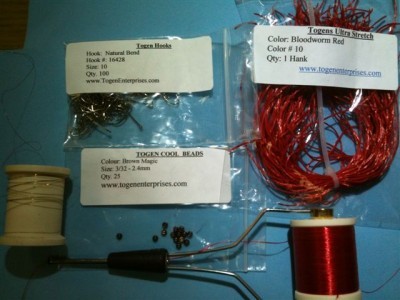 HOOK: Togen Natural Bend Size #10
THREAD: Red
RIB: Fine Gold Wire
BODIES: Thread On Hook/Togen Ultra Stretch Bloodworm Red
BEADS: Togen Cool Bead- Brown Magic 3/32
---
Blood Clot Bloodworm Fly | Tying Instructions:
1) Pinch the barb and slide on 2 beads …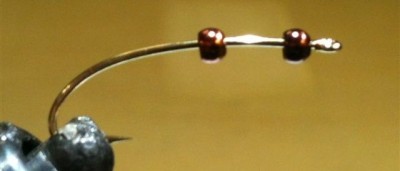 2) Tie thread on at middle of hook …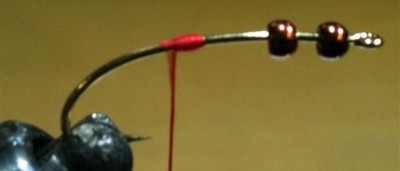 3) Build a little hump add a drop of Krazy glue and slide bead onto it …
4) Wind thread down the hook and secure the ribbing ….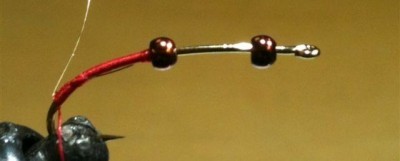 5) Tie in 2 strands of Ultra Stretch leaving 2 tails trailing behind hook …
6) Wind thread forward up to bead follow with rib making one turn over where you secured the Ultra Stretch tie off rib and trim off …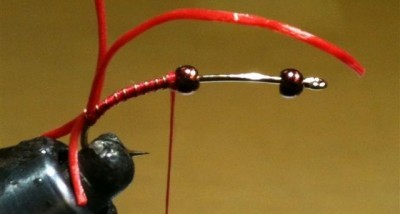 7) Pull Ultra Stretch up to bead creating a loose loop and secure …
8) Pull loose ends back, whip finish and trim tag ends …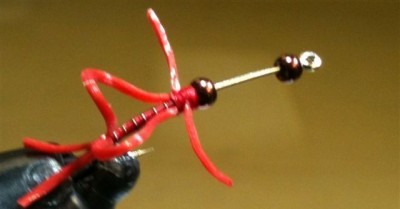 9) Repeat on the front section …
10) Add drop of Krazy juice on the thread behind the beads and you're done!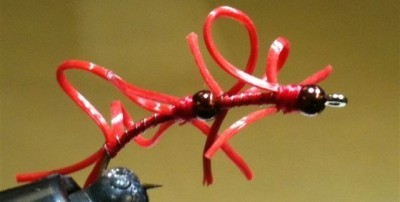 Blood Clot Bloodworm Fly | Colour Variations:
As bloodworms can be reddish, green or a combination of both I've shown some variations. Your imagination is your only limit!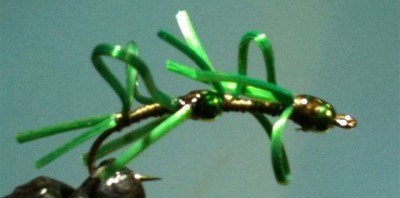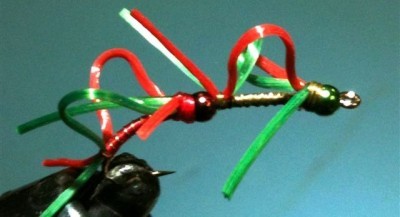 That's it folks … tie up some Blood Clot Bloodworms & hit the water!
Gord (flyguys.net Northern Division)
---
*** if you're interested in custom tied, time tested & proven effective BC Interior fly patterns, but would rather buy than tie, please Contact us for details!
*** for more effective BC stillwater fly fishing patterns be sure to check out all of flies on our BCs best fly patterns index page!
---
---
Like our stuff? Subscribe by
Feed or

Email