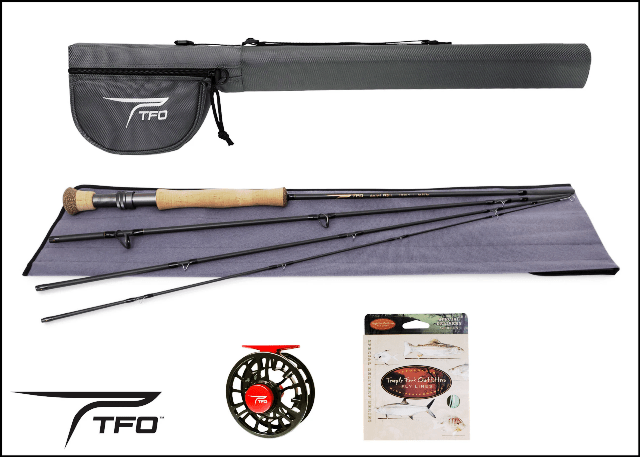 TFO Pro 2 Fly Rod Combo Pack
– Product Review –
Description:
The TFO Pro 2 fly rod combo pack includes a rod, rod bag, reel, floating fly line, leader, and reel-on-rod hard case. The purchase price currently listed on the manufacturer's website is $409 CAD. Upon exploring the alluring retail packaging, a nice-looking 4 piece case was revealed. Inside I found paperwork and quality looking components which enticed me to assemble the package and start swinging the rod.
The Rod:
The manufacturer describes the supplied Lefty Kreh rod as "equally at home in the hands of a beginner and intermediate casters. The medium-fast action blank loads easily and delivers lots of power, while the stealthy matte black finish blends easily into the stream or lake surroundings. Upgraded with machined anodized aluminum reel seats, braided carbon fiber inserts, premium grade cork with burled accents and lightweight stripping guides".
I found the rod quite fast, or at least faster than I expected for a medium-fast rod. That suits me well, as I tend to like my rods on the quicker side of things. This rod has been extensively-fished by a special acquaintance who has taken fly-fishing up in the last year. Compared to her first rod, she could immediately tell there was a notable quality difference. The rod looks and feels great in the hand, casting effortlessly; The rod and fly line seem very well balanced. Although I'm not of the belief that it is often beneficial to belt out long distance casts, I did put the rod to the test and found I could get pretty much all the line out. Impressive for an "intermediate" rod.
The positive aspect to this rod having a bit faster action is that the purchaser is less likely to "outgrow" the rod in a short time. That is, if a beginner buys this rod, he or she would have to do a lot of fishing before they might ever get to the point where they felt like the rod was just incapable of delivering the performance that they were seeking. Quite honestly, I would say most advanced casters would be happy to fish this rod, both at distance and for presentation.
I wanted to fish the rod through some of the summer season to see how it fished dry flies, both for presentation and leader protection. One of the great qualities of this medium-fast action rod is that it seems to be a great jack of all trades! Not only can it send a cast a good distance, but it tracks well, delivering aimed casts gently on target. I only managed a handful of fish on dry flies, and none of extreme size, so it was easy setting hooks without breaking the 4lb test tippet. I get the feeling this rod might be a bit more forgiving on over-zealous hook-sets than the faster rods on the market.
If I had to say there was a drawback to the rod, it would be only in the context of the rod being marketed to beginner/intermediate anglers. The action seems a bit quick for a brand-newbie to get the hang of casting as easily as they might with a slower rod. Having said this, in my books adding a week or two to the learning curve is a welcome trade-off for picking up a potentially "lifetime rod".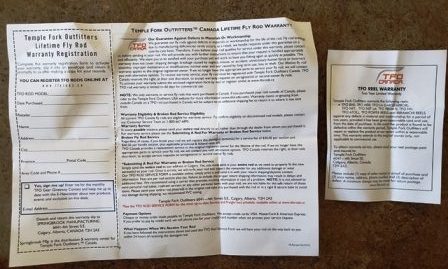 On the topic of how long one might expect to have this rod around, the rod carries a lifetime warranty, applying to the original registered owner and guaranteeing from defects in materials or workmanship for the life of the rod. The few reports I've heard about folks having to utilize TFO's rod warranty have all been positive in nature, and it sounds like customer service is a focal point of the company's current business model.
The Reel: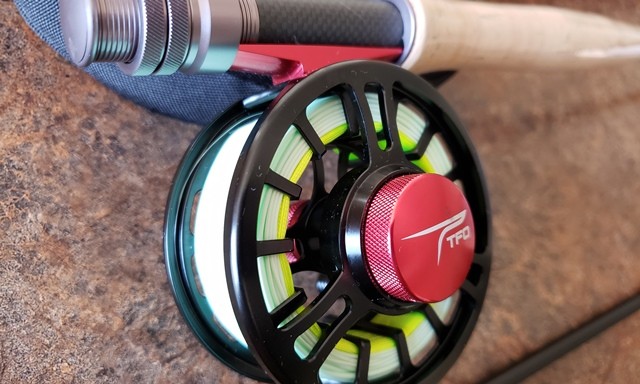 The package comes with the TFO "NV" reel, which currently retails for $167 CAD. Spare spools are available from the TFO website for $85 CAD. The reel follows the trend of today's "minimalist" reels, paring down on metal to leave a fairly skeletal frame, decreasing weight while having good strength and aesthetic appeal. I was lucky enough to be able to test this reel (the drag) on some large, feisty BC interior rainbows, and the drag seems smooth throughout the range of tension, which dials down quite hard on the spool at the highest settings. It came pre-loaded with backing, so I am going to assume it comes with the 100 yards of backing that is the (website) stated capacity if using a 6wt floating line. I did not, however, measure the backing supplied and am not sure how much more you might be able to squeeze on under a 5wt line, if one was so inclined.
The Line:
This fly rod combo comes pre-spooled with TFO's "Special Delivery" weight forward floating fly line, which would retail for $45 CAD if purchased alone through the website. I find reviewing lines difficult, as most seem to cast well-enough out of the box. One of the best qualities of a fly line, in my books however, is longevity. How does the line look and perform after the super-slick dressing applied in the factory has worn off? How does the line hold up to cracks, etc.? This TFO package has been getting frequent use for the last 3 months and the line seems to be holding up well. Difficult to say how it will stand up in coming years, but initially at least, it looks good. It comes factory with a welded loop which is a selling point for some. I tend to cut loops off in favor of a nail knot which slides through the guides smoother, that's an individual preference. This line came on the supplied reel with a tapered leader, mated via the loop knots.
The line exhibits some mild memory pulled straight off the reel, which was easily erased with some gentle stretching upon pulling it off. The line does seem well balanced with the rod, as it casts effortlessly.
The Case:

The rod and reel came out the box in a very nice looking 4 piece rod/reel case which has held up well to date. In the past, I have found cases with zippers that go around tight corners prone to failure, so I was happy to see that the zippers on this case rounded more gentle corners.
Overall impression/Value:
This rod/reel/line combination is potentially on the upper end of the budget for some beginners. I know that, especially for teenagers and/or young adults, $400 may be a chunk to come up with. But, my advice is that if you can make the squeeze, you should. Where this outfit really shines is that you will be happy to fish it even after you've become a seasoned angler. It's a pleasure to cast, is beautifully balanced, and is most capable both in terms of delivering flies to fish, and in bringing in fish you've managed to take. For most, I could see this outfit remaining in active duty for a very long time. One may be able to buy a more economical outfit, but my prediction is that most often, people will tend to outgrow more inexpensive combination packages as their skill increases. From that standpoint, the TFO Pro 2 fly rod combo pack is a great value, as the components are of appreciable quality and will hopefully endure years of appropriate use.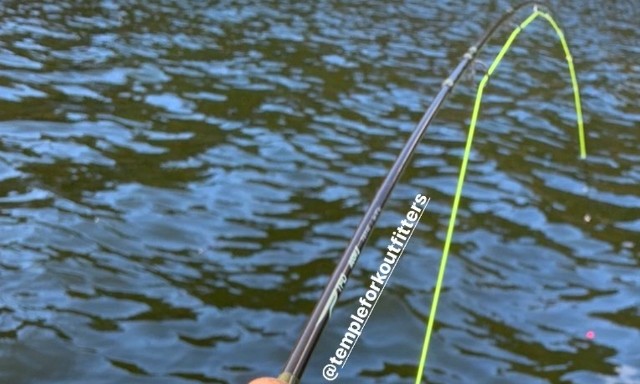 Another notable quality is the package's versatility. In the 5wt option, I was able to proficiently cast to long distances, target rises with accuracy, deliver long leaders with strike indicators and yet deliver adult caddis dry flies gently. Again, from a single rod/reel package that's a lot to ask and yet I have no complaints about the ability of this equipment to deliver on all those fronts. I've really enjoyed testing the TFO Pro 2 package and would recommend one to anyone looking for a versatile, high value outfit that will take up a long-term place in their arsenal of flyfishing gear.
You can find the TFO Pro 2 fly rod combo pack at TFO Canada here …  🙂
---
Like our stuff? Subscribe by
Feed or

Email