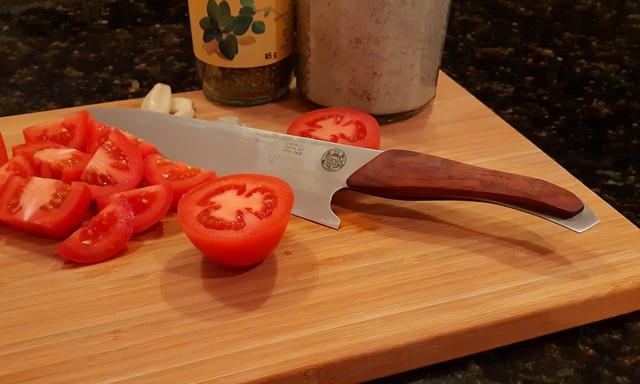 Chatwin Heirloom Crucial Knife Set Review
I am not a chef, but I really like to cook. I especially like to cook from "scratch" and do as much by hand as possible. I'm not especially knowledgeable about different qualities of knives/steel, and since mine cut alright, I wasn't looking for anything new. Then my husband came home with a new set of knives, the Chatwin Heirloom Crucial Knife Set. I hadn't heard of this brand before and did a little reading before using them for the first time. They have an interesting history and something I found particularly great is that they were developed right here in Kamloops British Columbia! You can read more about the company and their product on their Etsy Store here … where they are currently having a 40% off till Christmas sale! 😉 I also did some price comparisons and found that even off sale the knife set is very reasonably priced.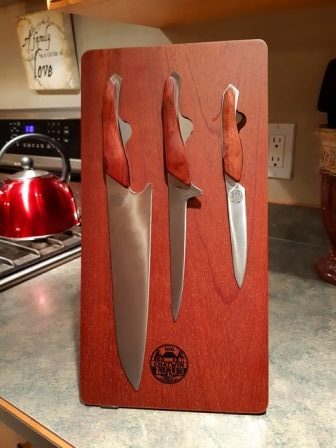 At first I wasn't sure about the handles, whether I would find them awkward because they are a shorter length than I was used to and have a more pronounced curve on the bottom of them. Upon usage I discovered I like how they fit in my hands, the handles are not large and bulky, so I am able to have a comfortable grip. Also, they are not too heavy so I can chop for longer periods without my hands getting sore or tired. I have used these knives daily for about six months and in that time the blades have held their edge very well! I can get nice clean cuts, even on tomatoes, after multiple uses. The three knives that come in this set have replaced almost all the other knives I previously used. The paring knife handles all my small cutting and peeling, especially fruits & veggies, quickly and easily. The filet knife slices through meat very precisely and cleanly and is perfect to fillet the skin & ribs from all types of fish. The Chef's knife does pretty much any other cutting, chopping or dicing that I need to do.
These are knives are also aesthetically pleasing as they have a pretty wooden handle. They do require a little more care than my knives with synthetic handles, I always wash them by hand and periodically oil the handles to keep them from drying out, but I find it well worth the time. The Crucial Set also comes with a matching knife holder board which can be stood on any counter top or hung on the wall. The board has magnets to hold the knives in place, which makes it super simple to grab one, especially if your hands are dirty. I have a spot in my kitchen where it stands, in a sandwich board style, and it makes the knives really accessible and easy to use.
So, as I started this, I really like to cook, and I really enjoy these knives and would recommend them to anyone! 🙂
---
*** do you have a fishing or outdoors related product that you would like us to review on flyguys.net? Just email us with your idea and we will reply in short order!
*** for more flyguys.net original product reviews please hit up our complete product review list here!
*** want to see some delicious and organic BC wild fish & game recipes that we've made with products like these? Please view the complete list on our recipes index page!
---
---
Like our stuff? Subscribe by
Feed or

Email