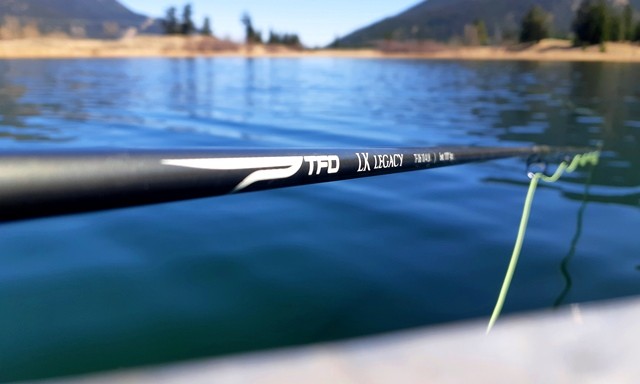 TFO LK Legacy Fly Rod Review
The new TFO LK Legacy series fly rods replaces the BVK in paying homage to TFO's founding rod designer Lefty Kreh.  The manufacturer describes the LK Legacy as "the ultimate "big water" trout rod for intermediate to advanced anglers" and "powerful & responsive with perfect tracking and crisp, smooth recovery." 
The LK Legacy is constructed with high modulus carbon fiber material and finished in a matte grey color. Components include a fully anodized up-locking reel seats with angled hoods and braided carbon fiber inserts, a black frame, stainless steel stripping guides and anodized, double-foot, stainless-steel snake guides. The cork grip is Flor grade cork with a comfortable contour and some unique contrasts.  All delivered in a labelled 4 piece rod sock and TFO rod tube.
The TFO LK Legacy fly rod is available in lengths from 8.0′ to 10.0′ and in weights from 3wt. to 8wt. For BC Interior Stillwater applications we would focus on 9′-10′ 5-6 weights and for the purpose of this review are evaluating the 10.0′ 6 weight with fullwell grip and fighting butt. The rod was matched with a TFO BVK SD3 reel loaded with a TFO Special Delivery Plus Weight Forward 6 weight Floating Fly Line (of which we will be reviewing separately so stay tuned 😉 ) …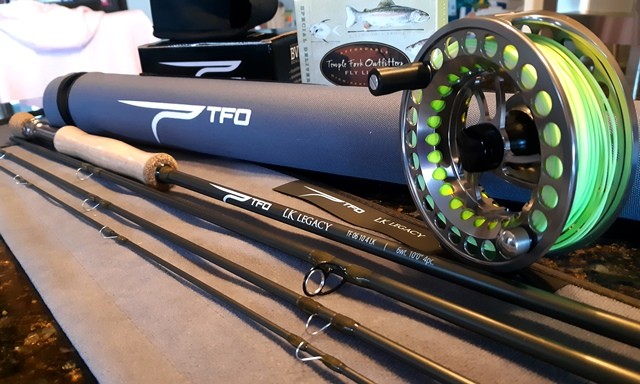 Most of my fly rods are 9.0′ 6 weights with halfwell grips, so when looking at the TFO LK Legacy in 10.0′ with fullwell grip plus fighting butt I knew that it might take some getting used to. With that in mind I carried and used the rod exclusively from ice off to the time of this writing, putting a total of 36 full days on the water with it. Weather conditions varied (sometimes within the hour) allowing for evaluation through a range of conditions: cold, hot, windy, calm and fishing from only a couple feet below the surface to long lining as deep as 35 feet.
Initially, and expectedly, the rod felt a bit heavy in the hand. The rod is rated as a fast action but I found it to be a bit slower than other fast action rods that I've used. Perhaps  the result of a longer length than I was used to. Regardless, the action suited me well casting long leaders with weighted flies and often a strike indicator included. By the end of week one the rod felt very natural in hand, felt very balanced, and casting was a joy.
And speaking of casting: Although super long casts are rarely necessary, especially when indicator fishing our local stillwaters, when long lining deeper waters it can often be beneficial to belt out as much line as possible to increase your play (amount of time the fly is being retrieved the zone) and I found that it was almost effortless to get pretty much all the fly line out when desired. I'm sure the TFO Special Delivery Fly Line played a role in this feat, but more on that later …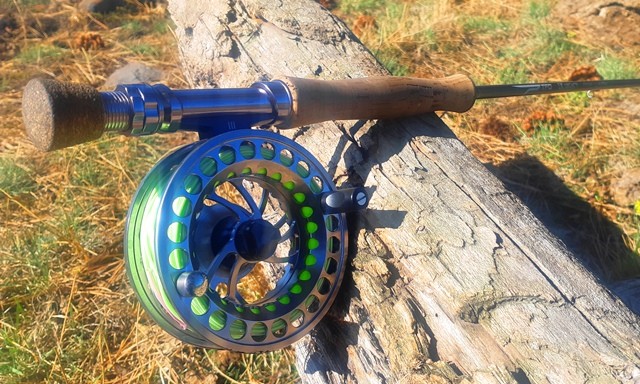 TFO describes this rod as able to perform well in wind and big water and I can attest to the accuracy of that as well. Lots of spring wind to deal with at ice off and the LK Legacy is truly built to help punch through it. I don't know if it's just the extra length, or the stiffer base section, or a combination of both (most likely) but whatever it is it works well. You can literally feel the strength in the rod as you power it through the wind and I was quite happy to have it with me on some of the more sever wind days this spring.
But strength isn't everything. On the flip side of the equation soft and sensitive are important features. Often takes can be quite light and you really need to "feel" the slightest touch on the fly to know when to strike. At other times grabs can be savage and you need a bit of give to help avoid breakoffs. With as much of a backbone as this rod has it is balanced very well with a tip sensitive and soft enough to accomplish both.
And finally, not relating to performance but a feature that I found very beneficial and thought worth mentioning, is the red  dot alignment system to help "get it right" the first time when setting up the rod! Such a small thing to add but a great time saver for a guy that often fishes multiple days per week, or even multiple lakes per day!  Nice and visible and no chance for error … thanks for the time saver TFO!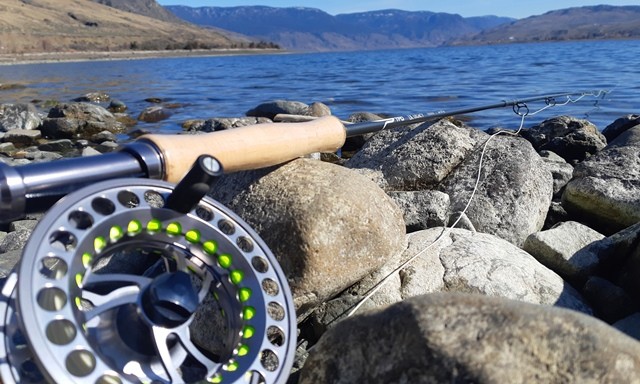 I had to dig deep to find any drawbacks with the TFO LK Legacy fly rod and all I could come up with is that it doesn't come with a hook keeper. Like the red dot alignment system this isn't something that would have added much cost, or time for that matter, but it would have helped preserve the base of the cork grip as this is inevitably where the fly gets stuck when relocating on the water. However, when contrasting this against rod quality & performance, along with the TFO Lifetime Warranty & customer service, it's almost embarrassing to point it out.
In conclusion, the TFO LK Legacy fly rod is a great option for stillwater fly fishers looking for a high end fly rod at a reasonable price point. The LK Legacy performs, period, and recommending it is a no brainer. You can find the TFO LK Legacy Fly Rod series at TFO Canada here …  🙂
---
Like our stuff? Subscribe by
Feed or

Email