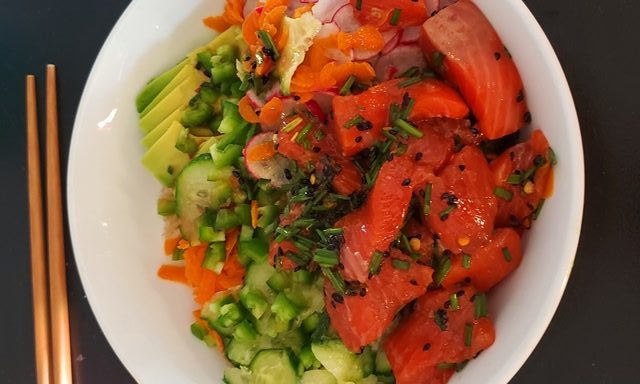 Kokanee Poke Bowl Recipe
A simply delicious land locked freshwater salmon recipe for those with a bit of an exotic palate!
Disclaimer: With any raw fish, you run the risk of picking up any parasites that might be living in its meat. These parasites could be tapeworms, lung fluke, or other digestive bugs that will cause you serious harm if transferred to your digestive system. Health experts recommend you freeze all raw fish. The FDA recommends the following for seafood preparation or storage to kill parasites.
Cooking (Seafood in General) …
Cook seafood adequately (to an internal temperature of at least 145° F [~63° C]).
Freezing (Fish) …
-4°F (-20°C) or below for 7 days (total time), or
-31°F (-35°C) or below until solid, and storing at -31°F (-35°C) or below for 15 hours, or
-31°F (-35°C) or below until solid and storing at -4°F (-20°C) or below for 24 hours.
https://www.cdc.gov/parasites/anisakiasis/faqs.html
https://www.themeateater.com/fish/freshwater/is-it-safe-to-eat-freshwater-fish-raw
Kokanee Poke Bowl | Ingredients: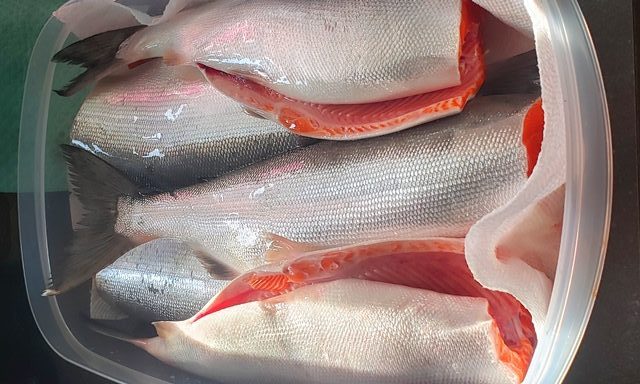 For the kokanee …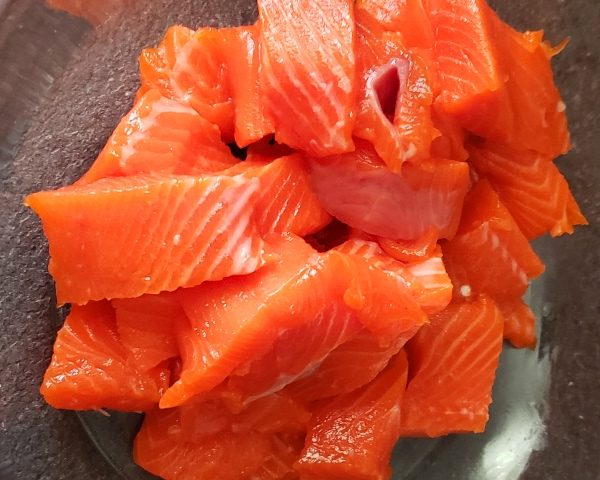 1 kokanee (depending on size, should feed two people)
1/4 cup sliced green onions
2 tablespoons reduced sodium soy sauce
1 teaspoon finely grated ginger
1 teaspoon sesame oil
1 teaspoon rice vinegar
1/2 teaspoon sriracha
For the spicy mayo …
2 tablespoons mayonnaise
2 teaspoons sriracha sauce
For The Bowl …
1 cup cooked short grain brown rice or sushi white rice
1 cup cucumber peeled and diced or grated
1/2 cup carrot grated
3 or 4 radishes thinly sliced
1 avocado sliced
2 green onions, sliced for garnish
1 teaspoon black sesame seeds
sriracha, for serving (optional)
any sort of greens (spinach, arugula, etc…) (optional)
diced mango (optional)
Kokanee Poke Bowl | Instructions:
In a small bowl combine the mayonnaise and sriracha, thin with a little water to drizzle.
In a medium bowl, combine kokanee with green onions, soy sauce, sesame oil, rice vinegar, ginger and sriracha. Gently toss to combine and set in fridge while you prepare the bowls (let rest for 15-60 mins).
In 2 bowls, portion out the rest of the ingredients.
Drizzle with spicy mayo and sesame seeds and serve with left over sauce if needed.
That's it folks, dig in and enjoy!!!!
Tyler
---
Like our stuff? Subscribe by
Feed or

Email