The Lowly Ant
Gord's Shiny Smooth Flying Ant Sinker
Well as winter lingers on up North the fly tying Marches on. It will probably April on and there will be some May on days spread through the early Ice off. I'm getting to the point where I've pretty much filled in the gaps in my lake boxes. I've filled in the depleted favorites and tied up some new patterns. Stream boxes are getting some love too and in staring at them I decided I had to up my terrestrial component. I have hoppers and beetles but I noticed I didn't really have any ants. This got me thinking of Carpenter ants and lakes.
The Carpenter ant, along with a lot of other ants, once the colony has matured produce swarms of flying ants. At this stage they will produce mainly males and Queens with wings to start new colonies. They will send out thousands in hopes that one or two Queens succeed. Lots of these end up in lakes and streams with fish gorging on them when available. Interestingly ants are an important dietary component of a bear's diet so you know fish are aware of their caloric value.
Up north the Carpenter ant swarms happen around the first hot days of late May and early June. I've been lucky enough to be on the water, several times, when this has happened, and have done well with a mini black marabou leech. I've also noticed smaller black and sometimes red ants on the surface of lakes July and August.
If you google ant patterns about 90% of what you find are dry flies, floating patterns. This is understandable as when ants hit the water they end up trapped in the surface tension. You should always have some dry fly ant patterns but guess what after awhile they sink. The one thing I noticed about the floating ant patterns is they don't replicate two important features of the ant … the smooth and the shine. That's why the following pattern is more realistic. I'd be willing to bet that more ants are eaten subsurface than on top. Why would a trout risk exposing itself when the meal will eventually come to them. Well trout go nuts for ants so they do hit them on the surface but you may get more, and therefore an  increase in your odds for bigger, fish with a sinking ant pattern. 😉
So here's a simple, sunken ant pattern that can be fished on a floating line, with or without an indicator, that gets down in a hurry …….
Side note: Word on the water is that after 2 or 3 days of chowing down on ants trout will go off feeding for a few days, so you don't want to be late to the party.
Lowly Ant Materials List …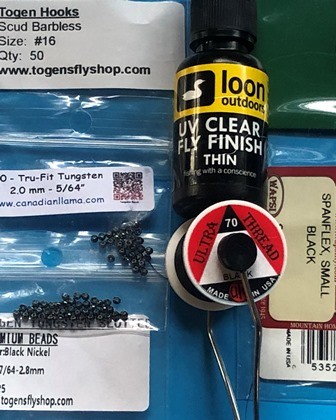 HOOK: Togens Scud Barbless #16 or #14
THREAD: Ultra Thread 70 Black
ABDOMIN: Black Tungsten Bead 7/64"
HEAD: Black Tungsten Bead 5/64"
BODY: Black Thread
LEGS: Spanflex Small Black
FINNISH: Loon UV Clear Finish Thin
* … glass seed beads can be substituted for the metal beads as in the large Carpenter ant
Lowly Ant Tying Sequence …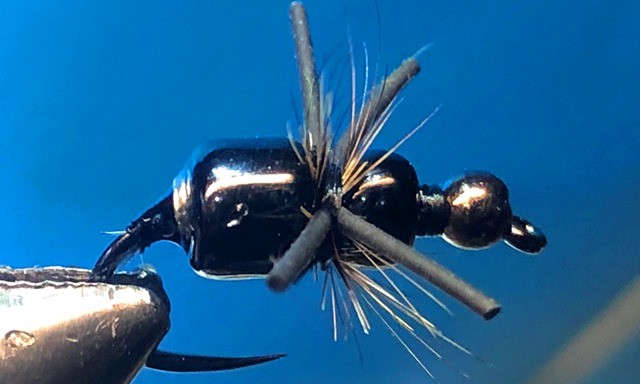 This one's just too easy and a picture's worth a thousand words so I think we'll leave it at that! 😉
Tight lines …….
Gord (flyguys Northern Division)
---
Like our stuff? Subscribe by
Feed or

Email