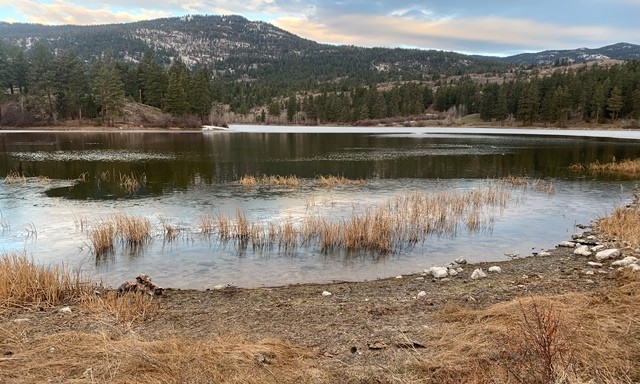 Sawmill lake (Burnell lake)
Fly Fishing / Ice Off Report 2021
by Glen Heward
Been planning a trip to Sawmill for 2021 since last April. Due to Covid, I couldn't camp up there, but did sneak in a great day of fishing in 2020. I'm a newer fly fisherman, but let me tell you, I'm hooked! A friend took me out 5-6 years ago. We had days where we landed 20-30 fish in various Interior lakes, up to about 7 lbs. I thought that was insane. However, I have learned in a short time, 30 fish days can be very normal in late April though early June, depending on the lake when bottom fishing under an indicator.
A little over a year ago, I bought a complete set up for fly tying. An older fellow was at the end of his run, so he put an add to sell it all. It was about $1200 worth of bench, tools and materials. I was lucky to get it all for $400. I don't think he tied very many chironomids, but the amount of gear was too hard to pass up. Since then, I'm sure I've added about $1000 in materials. To learn the art of fly tying, I spent countless hours in front of my computer and at the bench. Fly Guys was my primary source, and I'm forever great full ! You guys really know your stuff. So hundreds of hooks, and dozens of hours, I'm tying some really nice flies, with the fish to prove it.
So I returned yesterday from Sawmill lake. Another friend popped up there the night before to check it out. He sent me pictures of the lake, and what a disappointment. It was still 75-80% iced up still. He suggested i try another lake. I was already loaded up, ready to head out in the morning.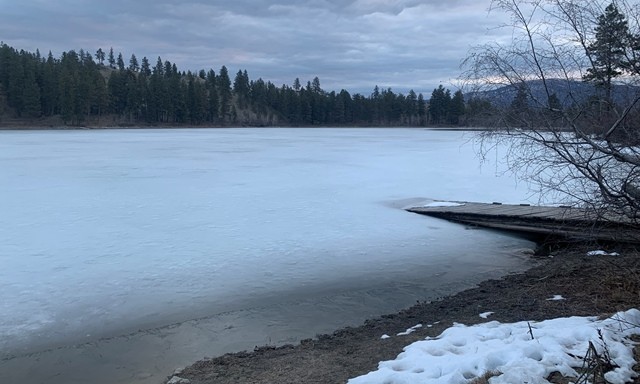 After a couple hours of sadness and depression, I decided to go anyway. I figured, may as well hit that little open area around the aerator (see image at top of post 😉 ). Which by the way, the second aerator has not been working for the past couple of months. Hopefully the fish at that end are ok.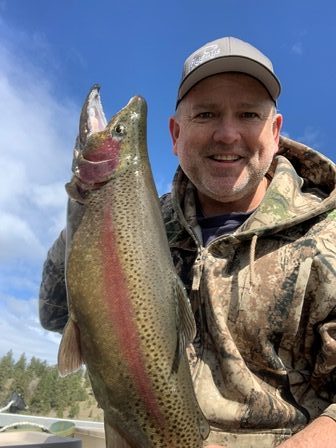 It was really slow. My friend and another boat also took to the small open water. Around noon, it finally happened. I got a strike ! I knew it was big, but not as big as it actually was. I landed my biggest trout on a fly…ever ! My digital scale topped at 8.2 lbs, what a tank ! That was the only lucky fish of the day, but what a fish. Couldn't get a hit on a chronie, had to do it on a little leech.
I would imagine the lake will ice off later this week. It's like a giant slurpie, and the wind later in the day was strong. I will be back again, when she turns over in two to three weeks.
Funny how few people are willing to help a new guy learn fly fishing. If not for YouTube and all the videos, I don't know how I would have learned. I'm sure I saved 10 years of struggling and frustration from all your videos. Not only do I already tie some killer flies, I have lots of my own creations. Nice when my 30+ year experienced buddies ask me, "how did you tie that one, what materials are they" ? Thanks again for doing what you do Fly Guys ! I wouldn't be here without you… 🙂
For the record, I share all my information with all the boats around me, and give out flies when I'm catching, and others aren't. Especially when i see kids in the boat. You miserable fly fishermen out there, don't be so cranky, there's lots of fish for everyone. And you wouldn't believe how good it feels when you help someone beside you, and they start catching fish too, and the smiles they get. Thanks to all the friendly fisher people out there. There are some, just not as many.
Cheers and tight lines !
Glen
---
Like our stuff? Subscribe by
Feed or

Email