Little Jet Sled River Boat Review
Explorer Industries 14′ Little Jet Sled River Boat … AKA MY NEW BOAT! 😀
Well I thought I'd do a little write up on the new addition to our family. It might just be me but I don't think the wife is as jacked-up about it as I am but I finally, after many years, got my boat!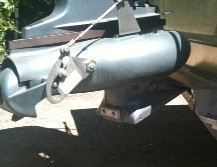 It's a 14 foot little jet sled from Explorer Industries Ltd. out of Edmonton Alberta. I've noticed a lot of guys in the bottom of the province running Jon boats with jet outboards and there are definitely advantages to them. A buddy of mine picked up one of the these Explorers a couple of years ago and I fell in love with it. What I really like is I go fishing with just the mutt lots and with this boat I can man handle it by myself. Weighing around 700 lbs. and having a UHMW ( Teflon) center strip I can run this boat right up on shore and still shove it off. It's tunneled  with the bottom of the jet leg sitting above the bottom of the boat. Up on step this boat will run in 2- 3 inches of water! 😯
Here's the SPECS …….
Length: 14″
Beam: 72″
Bottom width: 57″
Depth: 21.5″
Comes with a EZ Loader trailer!
---
With the wide bottom and a 6 degree hull this boat is extremely stable. They also build a 16 foot model with four seats. The 14′ comes with a choice of 40/30 or 50/35 Yamaha while the 16′ has a 60/40 or 90/65 Yamaha. I got the 50/35 with my 14′ and was able to get the last year of the 2-stroke model. I went with the 2 – stroke as it's lighter, I can actually work on it and the low-end torque. My buddy takes his to Terrace and can get up farther in skinny water then the full size jet boats. Of course the off set is the amount of weight you can haul,but then again I don't need a bbl of gas for the day. Pros and Cons. It also doesn't look out of place on the lake  and you can stand on the bow section for visibility and casting.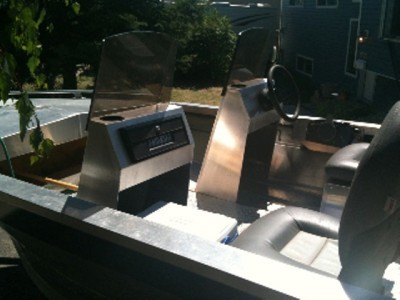 I was on the Peace River last weekend and with both dams spilling I took it into some excited water and it handled great. I didn't really push it as I'm not quite use to it yet but it's suppose to perform well in White water and is a climber. Hoping to get out this weekend on the Peace and with Hydro stopping the spills for a few days maybe I can find the holes again.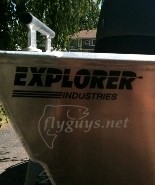 This boat obviously isn't for everyone but it works for me and is reasonably priced. So if this has peaked your interest give Dave a call at Explorer Industries Ltd. and he can answer all your questions.
The wife being … well a wife … was picking out all these cutesy names for it but I think I've settled on the  River Wolf.  Here's hoping there are many awesome fishing reports from the River wolf from here on in.
Gord FlyGuys Northern Division
---
*** do you have a fishing or outdoors related product that you would like us to review on flyguys.net? Just email us with your idea and we will reply in short order!
*** for more flyguys.net original product reviews please hit up our complete product review list here!
---
---
Like our stuff? Subscribe by
Feed or

Email