Summer, yes it's finally here! You know what that means for a fly fisher, right? Well I'll explain it, the spot that you want to catch fish in, is always gunna be over fished, especially if its one island lake! Nothing bugs me more than going out onto a lake, and it being full of spinning fisherman! That ounce of hope you had, before coming off of shore, that today maybe I'm actually going to catch the big one. Ya that feeling, and train of thought went out the window about a minute ago. Spoons, giant red devils, ripping, and slicing through the water in any place you thought would be acceptable to fish. Yes and now to boot, you start noticing these bobbing things on the water, which start coming to life, and an engine roar. Now there is more boats coming onto the lake, you soon have your soul diminish. Then, when you are least expecting it, your rod slowly begins to slip out of your hand, and your line goes tight! Fish on!
While fishing one island lake, I have learned three things. One; "Never lose your train of thought." Secondly : "Don't give up, these fish are everywhere in the lake." Last but not least Third ; "Whatever you must do, make sure you use the washroom before coming onto the lake."
One island is home to some large rainbows, and some big brooke trout. This early Wednesday morning on June 26th, happened like each other, I was woken up by my father saying ; "Son, your step mom is asleep, let's get out of here while we still have the chance." Some how I scrambled out of bed, grabbed my fishing gear and hopped into the truck. Now just leaving the house I realize something, I forgot a pair of pants. So my dad slams on the brakes, and we double back to the house, I grab a pair of pants, some socks, a t-shirt, and a long sleeve sweat shirt and we were on our way. Once we were on the water I got a phone call, it was my step mom, asking very Godzilla like : " WHERE IN THE HELL ARE YOU AND YOUR FATHER!" My dad was probably 50 feet away from me, and he heard it, gave me the look of terror, and kicked over in his pontoon boat beside me. He then whispered ; " Tell her, were on a mission, to find something." So I responded back to my step mom., " Uuuh… We.. Were… I'm losing service I'll call you around …. ."
I kicked over to the weed bed just one kilometer across the lake, setting up my fly rod, putting on a strike indicator with a 6 foot leader to my, Brian Chan series "Ruby eyed Leech", and hauling out about 60 feet of line, casting and letting it splash silently on the water. I now realized as my Fly rod was slipping out of my hand, that a fish had taken the bobber under the water, and I immediately set my hook. I swear to this day that all hell broke loose. My reel started screaming, as if it had been hit with a hammer, my backing was already out, by at least 30 yards. I tightened my drag, and held on for dear life. I was not gunna loose to this fish!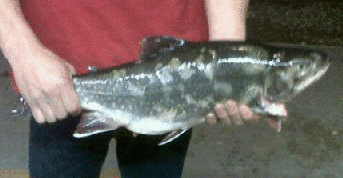 I spun up fast on this fish, but I could tell that this was not going to be an easily won battle, at least 15 minutes went by, when I could feel my muscles cramping, and the fish easing out.So I did the possible, I lifted my fly rod up high above my head and reeled as fast as I could, I put my net between my legs, than I heard a splash! I looked down and this is what I saw…..!
by … Dakota Mercer
---
Like our stuff? Subscribe by
Feed or

Email