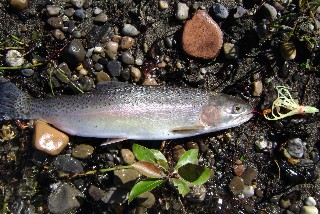 Last  weekend Hydro stopped it's spills and the Peace River was down to around normal summer conditions. Trying to get organized and out on the water was like pulling teeth …. wait I didn't get out as I was having teeth pulled! I knew there were teeth involved somewhere in this story. 🙂
This weekend was going to be different. I had a minor repair to do on the jeep Thursday after work and the plan was to take the boat to the Peace early Friday morning. It was a good plan, almost fool proof, but things went sideways soon as I popped the hood on the jeep. I shut her down around 9:00 PM and went in for a beer totally aware that there would be no fishing in the morning and, depending on what happened tomorrow, no evening fish either. This on top of the fact the spills had resumed and the river was rippin' again. As I was moping around on the deck I got a call from my son Timbre who patiently listen to my jeep story. He then said what are you doing Saturday? He said they were ahead on an engine rebuild and if all went well Friday bringing it back online, he would have Saturday off. He may have said what are you doing? but what I heard loud and clear was let's take the boat out. That perked me up a bit and I said give me a call Friday when you get home and if it's a go we'll take your truck. I'm happy to report that I fixed the jeep, Timbre had Sat off, and we geared to head out early Sat. morning!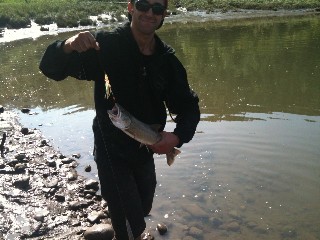 We got to where we were going to launch the boat next morning and the river valley was shrouded in fog. Not a bad thing as we knew it was suppose to get hot and sunny and a little reprieve from that at the start would be a good thing. Maybe the fog would also help with the bite as the fish should be less spooked. As we launched I noticed the water looked pretty low and I was wondering if the spills had stopped again. You could see that the water had dropped recently and was down around 5 feet from the wet high water mark. We headed up river to a sweet hole and ran the boat up onto the mud. The river here spills around a island and on this far shore has a big back eddy that spills back into the main flow with a set of riffles. We both broke out the spinning rods and did an exploratory  fan of the area with big spoons and some spinners. Nothing was happening so Timbre switched to a float and hootchie and I pull out my fly rod with a floating line. He stayed in and around the eddy while I headed down around the corner to fish the fast water. I was drifting a bead head black beetle just before the riffles and was getting bites right off the bat.  I landed a couple whitefish, a little bull and a nice rainbow that I decided to keep for the wife as it always is a deal breaker for a fishing trip. As I rounded the corner to clean the fish I could see Timbre was releasing a nice bull trout around 5 lbs.  He said it was his second one and was getting lots of hits.!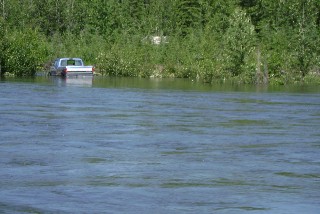 After a couple of hours of good fishing the river which had dropped a couple more inches started to rise and at a pretty good clip. We had to keep a close eye on the boat and kept pulling it farther up the shore and adjusting the line up to the anchor. Earlier I had put my glasses,scissors and filet knife up on the bank behind me which was at shoulder level. With keeping and eye on the boat and the hot fishing we kinda of lost track how high the river had come up. I was going to switch flies  when I couldn't find my glasses and asked Timbre if he had moved them. It was then I realized I was now standing on the upper bank and the water had come up 5 feet! After wading around and looking in the grass which was now under water I did find my knife and scissors but alas the river took the glasses. I had a flash back to that Disney movie with Don Knotts when he turns into a cartoon  fish with glasses. The river came up another foot and then leveled out but the fishing slowed.
Timbre was the bull master as he landed 4 between 2-5 lbs and a nice rainbow while I caught a bunch of whitefish and rainbows on the fly. We went for a bit of a tour before trailering the boat and it was odd to see some small islands completely covered with water.  I'm going to try get a late fish in on the river as past experiences has shown that the dry fly fishing only picks up near dark and there was some good size Caddis starting to show as we left yesterday.
Gord and Timbre
FlyGuys Northern Division
---
Like our stuff? Subscribe by
Feed or

Email