Baby Rainbow Fish Skull Streamers …
Well I just got my shipment of Fish Skulls in the mail and I thought I'd share these little gems with all the tiers out there. As you may know tying heads on bait fish is  hit and miss with getting the proper all around shape. With these little beauties problems solved. I don't know if you have seen them before but they were the 2010 fly tying  product of the year!
Here's how we use them to tie realistic bait fish patterns for Bull, Laker and Rainbow trout!
The fish skulls come in  three sizes and seven colours – Silver, Blue, Tan, Golden Chartreuse, Dark Grey, Coppertone and Pinky Purple Pearl.
You can see that they will cover a large variety of hook sizes. The small size is for hooks sized #4–#10, the medium for hooks #4–#1/0 and the large are for hooks #1/0–#4/0.
The skulls are made to slide over the hook eye once the material is tied on. They are fish head shaped with gill plates & indented eye sockets. Each package comes with 3D eyes that glue into the recesses & give the head a realistic look.
The manufacturer claims that they will hold up really well in salt water too. They are actually not that heavy which will make casting a little less hazardous but for my use I need to get the fly down so I  will show this tie with the hooks wrapped with weight. Simply omit the weight if you don't need it.
Baby Rainbow Fish Skull Streamers | Material List:
Hook: Mustad #2 36890 Salmon Hook
Thread: 6/0 uni-thread iron grey
Underbody: Lead wraps
Body:  Pearl mylar piping
Sides: Lateral scale
Underwing: Blue pearl flashabou
Overwing:  Olive marabou
Head: Silver medium fish skull
---
Baby Rainbow Fish Skull Streamers | Tying Instructions: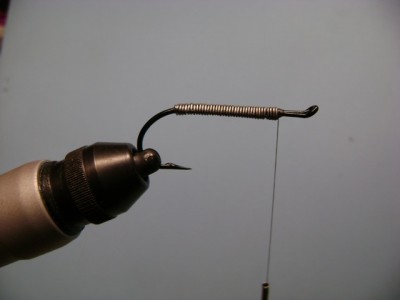 And there you have it! I'm going to crank out  a bunch these this winter as I wait the next four months to get them in front of some Bulls, Lakers and Rainbows!
Gord  (flyguys North)
---
*** if you're interested in custom tied, time tested & proven effective BC Interior fly patterns, but would rather buy than tie, please Contact us for details!
*** for more effective BC stillwater fly fishing patterns be sure to check out all of flies on our BCs best fly patterns index page!
---
---
Like our stuff? Subscribe by
Feed or

Email