Wine & Gold Chironomid Pupa Fly Pattern
Things are gettin' a little ansy up this way! The lakes in the North Eastern region of British Columbia are seven to ten days away from being ice-off and it's really hard reading about all the open water lake choices down in the Southern interior!
This week though I saw my first Robin and the first hint of green is showing down in the Peace Valley. I've been hearing geese for a couple of weeks so we're there….right there! In the mean time I'm going to re-visit an old Kamloops area staple from years ago that might help out in these early days of Chironomiding … it's the Wine & Gold Chironomid Pupa fly and here is how I tie it …
The original wine & gold chronie pattern predates the bead craze and just had a thread head. Once beads became popular I added a gold bead but I knew soon as I opened up my shipment of fly's and beads from Togen that I had to find a place for their Brown Magic Cool Bead. The Wine & Gold pupa was one of the first recipients and I mean how can you go wrong with a bead that has Cool and Magic in it's name. Don't worry about the Brown cause it just works.  🙂
I tie this up with Wine, Brown and Black thorax's behind the bead and with each thread the bead seems to absorb some of the colour. These are very easy to tie and there aren't a lot of steps or materials.
Wine & Gold Chironomid Pupa Fly | Material List:
HOOK: Togen Emerger  10# – 16#
THREAD: 6/0 Wine
BEAD: Togen Brown Magic 3/32
BODY: Wine Thread
RIB: Fine Gold Tinsel
SHEEN: Locktite  404
---
Wine & Gold Chironomid Pupa Fly |
Tying Instructions:
Step 1: Debarb hook & slip on the bead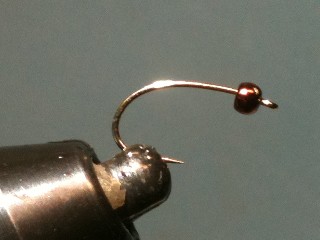 Step 2: Tie on your thread and tinsel just behind bead. Keep the tinsel on top of the hook and wind down over it with tight, close wraps to a point half way around the bend. Carry on with the thread for 6 more turns then double back with tight, close wraps. Wind your way back to the bead creating a slim body.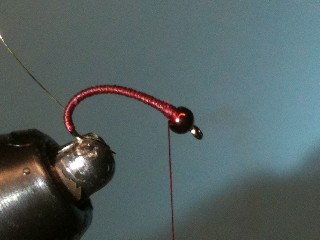 Step 3: Wind your tinsel forward and build a head.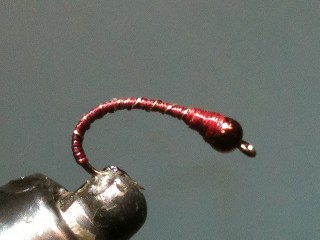 Step 4: Add locktite. Grab another hook and repeat! 😉
Here's the finished product in brown & black heads …….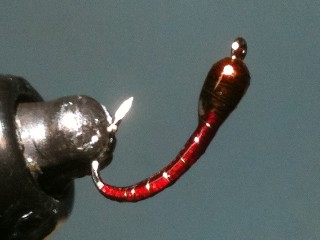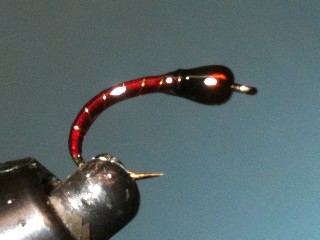 The Wine & Gold Chrinomid Pupa fly works well because it can at any given time be a chironomid pupae or bloodworm to a fish. So tie some up and go dangle them in front of some fish … maybe even one night during the Super Moon that's happening this weekend!
Gord … FlyGuys Northern Division
---
*** if you're interested in custom tied, time tested & proven effective BC Interior fly patterns, but would rather buy than tie, please Contact us for details!
*** for more effective BC stillwater fly fishing patterns be sure to check out all of flies on our BCs best fly patterns index page!
---
---
Like our stuff? Subscribe by
Feed or

Email