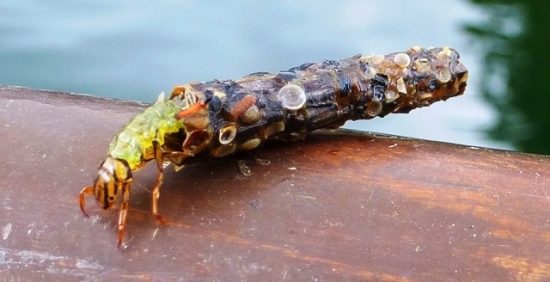 – Caddi Melt –
Cased Caddis Fly Pattern
This unique BC Interior still water fly pattern is brought to us by Brandyn and his BC_Interior_Fly_Tying youtube channel! A big thanks to Brandyn for sharing the Caddi Melt Cased Caddis Fly Pattern with flyguys.net! We'll be following Brandyn on youetube and encourage you to do so as well. Can't wait to see what he comes up with next! 😀
In the early summer last year I had seen Rob post that he was looking for anyone with an interesting cased caddis pattern. At the time I didn't have a whole lot of knowledge on these little bugs as I tend to stick to the usual , chronies, leaches, scuds, damsels and dragons. But  having another chapter to learn in this world of fly fishing and tying is something I will always take advantage of so I started doing some research on these bugs and quiclky learned that, at times, they can take up a fairly substantial part of a trouts diet. So with that I figured it was time to look into coming up with a pattern I could have in the box in the event the fish decided that's what they wanted one day.
Caddi Melt Cased Caddis Fly Pattern
Material Development …
I had been tying some dragonfly nymphs using a melted chenille look I had seen a fellow using at a show a couple years ago, and after looking at some pictures of how crazy the cases that they can build look, I thought it would make an excellent case material. So bing, that's how the body is done, and done very simply!
However that's when the trial and error began. How could I make a simple detailed pattern representing the little "peeping cased caddis". I started with some dubbing and hackle, moved to some dubbing and crystal flash, and in doing all this realized that a bead could help in a couple different ways … obviously the weight helps to get the fly down to the bottom or just above the weed beds where these guys spend their time, but it could also add a little color and help to create that peeping look I was going for. So after seeing a couple incredible pictures (again posted by flyguys.net) I had managed to come up with this pattern.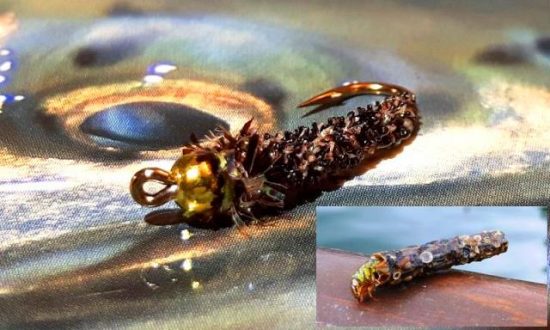 Caddi Melt Cased Caddis Fly Pattern
Tying Video …
A fairly simple tie, weight to get it down, a bright realistic looking caddis peeping out of its casing and by simply changing the color of bead, scudback and thread was able to represent this fly in a few colors as well. Here is the green version but shades of brown, black, olive and yellow also are a great option.
Hope you all enjoy the pattern, and although it's not something you may use every time your out on the water it may help you that one or two days where nothing else seems to be working and it's because they are down munching on these guys!
Cheers and tight lines.
Brandyn
---
*** if you're interested in custom tied, time tested & proven effective BC Interior fly patterns, but would rather buy than tie, please Contact us for details!
*** for more effective BC stillwater fly fishing patterns be sure to check out all of flies on our BCs best fly patterns index page!
---
---
Like our stuff? Subscribe by
Feed or

Email