Red Lake
BC Interior Ice Fishing Action at it's Best!
Put the rifles away and dig out the ice fishing gear cause Red lake, one of the BC interiors best ice fishing lakes, is ice on and fishing great!!! 🙂
Red Lake BC | Where What When …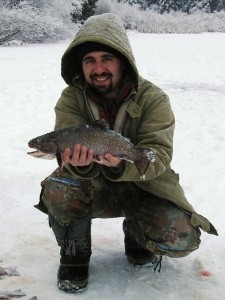 Red Lake is accessible through the Tranquille Valley via the Red Lake Road and only a mere 40 kilometers from the city of Kamloops BC.
Red is a quality BC interior year round fishery but is famous for offering up FAT Eastern Brook trout through the ice during the first couple months of ice on.
Although you'll need an auger to make a hole (we would highly recommend an 8 inch over a 6 inch), terminal gear is simple as a spool of monofilament line, hooks, weights and a bobber.
Top it all off with a nice piece of juicy shrimp or some stinky maggots and you're sure to increase your chances of landing some nice little football brookies!
Or better yet, check out our Ice Fishing with Flies (Flice Fishing) article and target these chubby char bait-less!  😉
For those coming from a distance, or those who would like to make a little vacation out of it, there are two brand new and well accommodated cabins on the lake owned and operated by BCLakeFronts.com. Just give them a call and tell them the flyguys sent ya and we're sure they'll set you up for success!
So there you have it folks – all you need to know for some of the best ice fishing our province has to offer! So what are you waiting for? Pack up your gear and get out there cause now's the time to have a blast fishing the hardwater in the BC interior!
---
*** for more of the best in BC fly fishing hot spots please hit up & review our BC Fishing Vacation & Holiday Destinations category here!
---
---
Like our stuff? Subscribe by
Feed or

Email