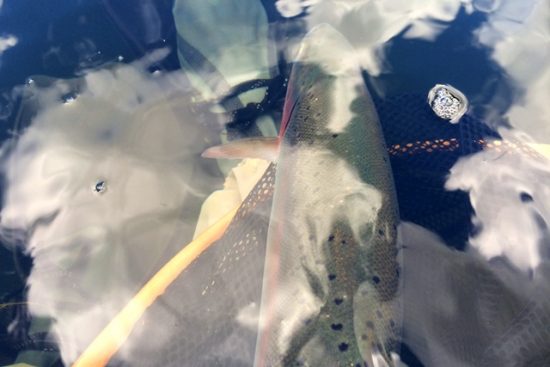 FGN Spring Tour
2017 BC Interior Fishing Report
The annual end of May fishin' and carousing tour down south had a major hic-up even before I got on the road. The Thursday before the long weekend had me flying all over town getting organized. I got home around 4:30 PM and as I walked up the driveway I looked back at the jeep and noticed a bunch of streaks on the inside of my front tire. Not good. As I went back to investigate I was praying …brake line leak, break line leak, please be a brake line leak but nope axel seal! Fak. I rushed inside and started phoning.
First call was the Chrysler Dealership ( even though I had vowed never to darken their doorway ever again – story for another time) I was informed they were closing in a half an hour for the long weekend. Basically same story the next 10 places I phoned. At this point I was resigned to finding some seals in the morning and waiting for my son to get back in town and doing the work in the driveway. Long story, still long, tried another # and said my name and guy remembers me from my days on the Rigs. Got me in Friday morning and I get my seals changed out!
The trip to Kamloops was uneventful and Tuesday morning hooked up with the boys and we drove up to our chosen lake. Gorgeous day and the last weather report I saw was for 30 C and maybe a little cooler Wednesday. As we set up camp then pushed out into the the lake Rick mentioned something about a supposed Low Pressure system that was to roar through overnight. Whatever, beautiful day.
The fishing seemed a lot slower than I anticipated, especially with all the chironomids popping all around my tube. I wasn't worried, we had 3 days and I figured we'd get dialed in. Mid-afternoon the temp seemed to drop and the wind picked up. The boys were down at the end of the lake fighting back with a dying electric motor as I started to angle across the lake. The wind grew and I was struggling to gain any ground. I got across but was pushed down the lake. As I struggled I was happy to see the boys round the point with the gas motor on the boat. They pulled up beside me as the whitecaps threatened to flip me. I grabbed a hold of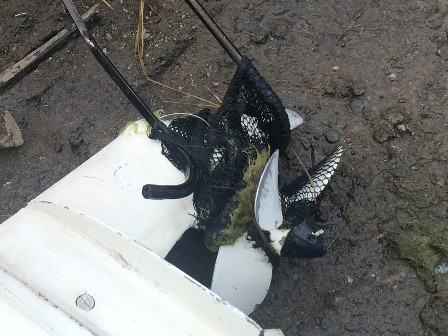 the gunnel and we started off. All good for about 10 seconds, then the motor stalls. Donny tried to start it CLUNK. He puts it into reverse CLUNK. I let go and said I'd make it as they rowed away. 30 minutes later when I crawled out at the boat launch it became apparent what was wrong with the motor. There was a net wrapped around the prop. Not any net but my net, which must have bounced out from behind my seat as we started up the lake!
As we settled in for dinner the wind picked up some more and the temps dropped drastically. We decided not to have a fire as it was too windy. As we sat around after supper having a few wobbly pops we heard a crack of thunder echo up the lake. There were a couple more and a comment was made about how odd that there was no visible lightening. That's when trees started to crash to the ground around camp. That wasn't thunder we had heard it was trees snapping off in the storm. As I crawled into, what was my inaugural test of, my Lawson hammock I had a vision of the tree I was tied to going down and sling shotting me into the lake! I was wearing most of the clothes I brought as the warm temperatures I had expected were long gone. It was a bit of a fitful sleep swaying back and forth with the wind and rain rippin' my rain fly like a flag on Everest. As I rolled out of bed (well more like auto-ejected…hammock rookie) the next morning the first thing I noticed was that there was snow on the far hill almost down to our elevation. On the right side the Lawson preformed admirable. I was dry and my back felt okay.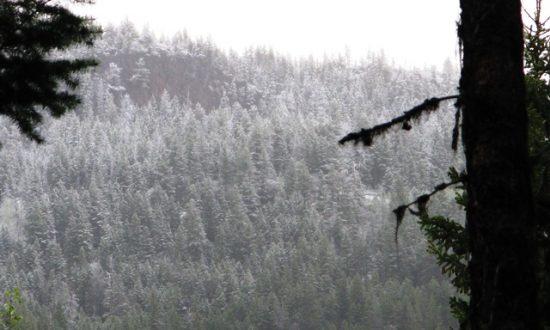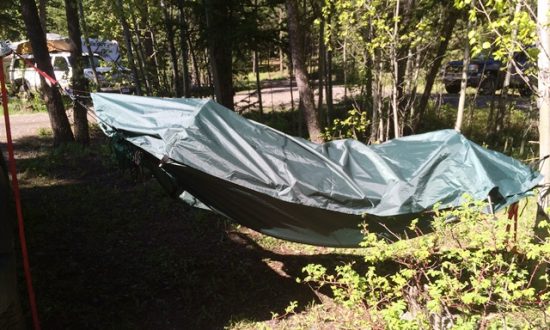 We got a fire and breakfast going then huddled under the tarp. Rob showed up but with the rain and 4C temperature I had a first on a fishing trip, as I sat out the day trying to raise my core temp. We just hunkered down with a roaring fire, toddies and had a Tarp Life Day. It was actually a fun day with old friends and lots of laughs.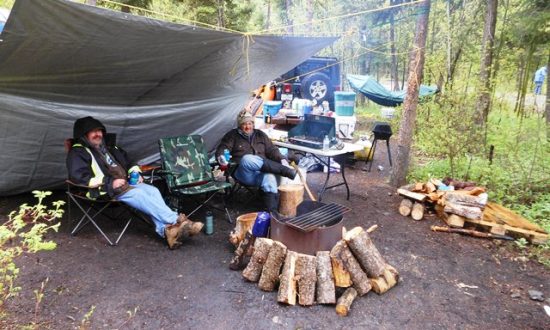 Next day was back to sunny and warm and I got the tube anchored in the middle of a chironyfest. Had the kind of day I was expecting all along. In 22 feet of water and my fly about 2 feet off bottom it was steady action. I went to a black bead instead of white and that seemed to be the ticket. The fish weren't terrible fussy on the body colour as long as it had a black bead and was #14 hook.
Finished the week off with a bunch of the boys out at a buddies cabin on Okanagan Lake. I've never seen the lake that high. His 20 feet of beach was gone and the lake was right up and under the deck. Pour a sip for all the folks trying to save their cabins and wharfs. Tough to see. Heading home I made a mental note to pack my winter sleeping bag and insulated coveralls next spring! 😉
GORD | FlyGuys Northern Division
Keep Calm
Fish On
---
---
Like our stuff? Subscribe by
Feed or

Email