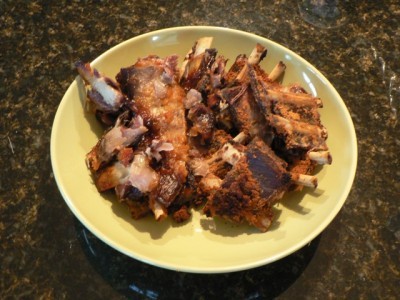 Peachy Sweet Venison Ribs Recipe
A great summer recipe that is simple and easy to make.  Boiling the ribs removes the fat bringing out the true flavour of the meat.   Slow cooking on the BBQ with a fruit sauce tenderizes the meat while adding a fresh flavorful contrast. A combination the whole family is sure to delight in!
Peachy Sweet Venison Ribs | Ingredients:
Venison Ribs 3 lbs
10 C cold water
Sea Salt, to taste, approx.  1 – 2 tsp
3 Cloves of Garlic
Peachy Sweet Venison Ribs | Directions:
Place ribs in large pot filled with cold water, salt and garlic.  Cover and let boil, checking water and flipping ribs in pot.  I usually boil for 2 – 4 hours.
Take the ribs  from pot and remove as much fat as you can.  Wrap in aluminum foil.  Cover ribs with Peachy Sweet BBQ Sauce and place on BBQ for 1 – 2 hours.
BBQ heat should be on low.  The ribs are already cooked from boiling in the pot.  The time on the BBQ is to allow the ribs to absorb some of the sauce.
That's it! Enjoy …….Susan
---
*** got a fish or wild game recipe that you would like to share on flyguys.net? Just email us the details and we'll post it up for you!
*** for more delicious and organic BC wild fish & game recipes please view the complete list on our recipes index page!
---
---
Like our stuff? Subscribe by
Feed or

Email