Another Stuffed Venison Tenderloin Recipe
So, it's that time of year again when our food thoughts turn to venison and coming up with more ways to enjoy!  We have a new toy in our kitchen, a Freeze Dryer, that we are having a lot of fun experimenting with.  With it, we're finding creative ways to add more flavour to not only our tried and true recipes, but as an inspiration to come up with fresh meal ideas. Here's a updated take on our always enjoyable stuffed venison tenderloin recipe …

Stuffed Venison Tenderloin Recipe | Ingredients:
Venison Tenderloin
Prosciutto
Bocconcini
Sage Salt (See instructions below on how to make your own)
Pepper – freshly ground pepper
Garlic – fresh cloves minced – 2 – 6 to your taste
2 Tbsp Rosemary – Freeze Dried
2 Tbsp Sage – Dried in Salt
2 Tbsp – Mixed Cheese (old cheddar / mozza / gruyere) – Freeze Dried – ground
Seasoning Blend – Freeze Dried – mushrooms / zucchini / garlic / onion / cheese – ground into a powder – equal parts of each or to taste **
Tapioca Starch (we use Tapioca Starch to be gluten free)
Olive Oil
Red Wine
Butter

Stuffed Venison Tenderloin Recipe | Instructions:
Rinse tenderloin well and pat dry. Using a sharp and thin knife, I find a filet style works well, slice up into the middle of the tenderloin from the narrow end but not all the way through.
Rub the outside of the tenderloin with a light coating of the Sage Salt. Not too much as the Prosciutto and cheeses will add more salt.
Rinse and if required cut the Bocconcini into smaller pieces.
Lay the Prosciutto flat on a cutting board and layer it with the Bocconcini, minced Garlic, dried cheese, Rosemary and Sage. Fold the sides and ends of the Prosciutto to cover the ingredients to make it easier to "stuff" into the centre of the tenderloin.  If it is a smaller tenderloin, this is a little harder to do. The handle of a wooden spoon can be used to help slide the ingredients into the tenderloin.
Mix 2 Tbsp each of the Seasoning Blend and Tapioca Starch to a container that will fit the tenderloin and add fresh ground pepper to taste.  Stir to blend well.  Coat the tenderloin with this mixture.
Heat equals amounts of Butter and Olive Oil in a pan. If there were any of the Garlic or Sage or Rosemary left, they can go into the pan to add more flavour.  Heat to a medium – hot temperature and brown the tenderloin on all sides.
Once the meat is browned, lower the heat and partially cover until the internal temperature for rare meat is reached. *
Remove cover, increase heat and add a splash of red wine. Again, turn tenderloin so all sides have been seared in the wine.  This should be done quickly so not to cook the meat much more.
Remove tenderloin from heat and put on plate, cover with foil and let rest for a few minutes.
Slice and enjoy!!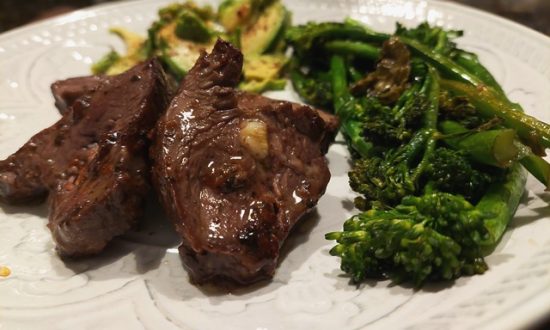 Stuffed Venison Tenderloin Recipe | Tips & Tricks: 😉
* Venison is a lean meat so it is typically better cooked rare. If you like your meat on the less rare side, slice it and put the individual pieces back in the pan on med – high heat briefly to sear the cut edges.
** Any of the ingredients listed that are Freeze Dried can be substituted with the same ingredient preserved with another method of drying . Finely ground cheeses, like Parmesean, should be also be a good substitute for the Freeze Dried Cheeses.
*** Another way of preserving fresh herbs is to dry them in salt. Our preferred salt is Coarse Grey Sea Salt.  Layer the salt with cleaned fresh herbs, in this case Sage, in a container, cover and let sit for a few weeks.  I like to use glass mason jars.  Once ready, you will have both nicely flavoured salt and dried Sage to add to a variety of your favourite recipes.
---
*** got a fish or wild game recipe that you would like to share on flyguys.net? Just email us the details and we'll post it up for you!
*** for more delicious and organic BC wild fish & game recipes please view the complete list on our recipes index page!
---
Like our stuff? Subscribe by
Feed or

Email