The Danvise Rotary Fly Tying Vise
I was first introduced to the Danvise fly tying vise by the owner of "fine flies for fisherman", an old school fly shop located in Kamloops (trout central) British Columbia. Graham and his wife ran the entire shop themselves and Graham pumped out the majority of the countless flies that they sold on the Danvise! So, when Graham suggested that this was the fly tying vise that I should buy I was already sold on it. When he told me that it was under $100.00 I literally couldn't  get the cash out of my pocket fast enough! That must have been at least 10 years ago and to this day I still regularly use the Danvise for all my fly tying needs!
The Danvise is a true inline rotary action fly tying vise. It is manufactured in Denmark and constructed of, for the most part, Delrin – a very tough space age nylon used in factory conveyor belts. The jaws are made of top-quality, tempered steel and the whole thing comes with a bobbin rest/wire holder, a material clip, a C-clamp to mount it to your working surface and a reversing block for "left hand" tiers.
Danvise Rotary Fly Tying Vise | The Details: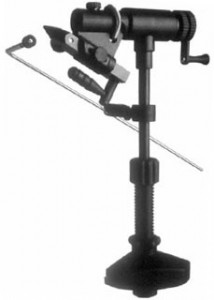 The mounting system consists of a quality, well designed C clamp which provides a solid, immobile hold that remains tight even through long tying sessions. The clamp comes with protective pads that eliminate any marks or damage to the mounting surface.
The vise stem is sturdy and provides for smooth height adjustment.
The rotational system utilized by this vise is second to none! Rotation is smooth and the tension of the rotation is fully adjustable from rock solid to almost friction-less.
The bobbin cradle is very handy and versatile (you can use it as a parachute tool, as well) but lacks enough tension to make it stay put. To compensate for this little problem simply turn over the unit on the vise stem and then tighten the nut/bolts while in the lower position … now all of the nut/bolts parts will tighten even further (not loosen as before) as the arm is raised into position! 😉
We've saved the jaws for last as, although the are probably the Danvise's greatest strength, if not operated correctly they can also be its greatest weakness!
The Jaws of the Danvise operate smoothly, are easy to open and close, and are easily adjustable for a wide range of hook sizes. Once set, the jaws will remain in the set position for as many flies of that size that you wish to tie, they won't come out of calibration unless manually reset by the user. The jaws camming system exerts a force of 10 – 1 on the hook it's holding, talk about rock solid! If, however, careful hook size adjustment is not made it may result in premature wear or damage of the jaw tips. It doesn't have to be that way though and to help with the learning curve on this simple adjustment step Al Beatty has provided a "set up and introduction to the Danvise" video which you can view below. And worse case scenario if the jaws do become accidentally damaged replacement jaws are inexpensive and readily available.
More on the Jaws from Al Beatty himself …
"The jaws have been a problem and are also the positive point regarding the vise. The designer (a fly tier) really hated hooks slipping in a vise so he designed the jaws/cam lever to apply a 10 to 1 closing ratio during the hook mounting process; most other cam operated vices have a closing ration of 2.5 (or 3) to 1. It really is amazing how little pressure a tier will feel on the cam-lever handle when closing the jaws and they are adjusted to hold a hook properly. The Danvise really holds a hook VERY well but for those people who don't adjust the jaws properly they will damage either a hook, the jaws or both. A "set-up & how-to-adjust" video is included below. "
Danvise Rotary Fly Tying Vise | Intro & Set Up Video:
* Jaw Adjustment information starts at 9:00 😉
Danvise Rotary Fly Tying Vise | The Verdict:
Is the Danvise perfect? Absolutely not. Is it the best fly tying vise that money can buy? Nope again. Is it the best rotary fly tying vise you can buy for around a hundred bucks? Well … in our opinion it's probably the best fly tying vise you can buy for under two hundred bucks! The Danvise fly tying vise gives you many of the great features and quality found on the much higher priced vises at a very reasonable price. It's very easy to set up, holds a hook better than the best of them and just plain works! It is very easy for us to recommend this vise and we're sure you'll be as happy with it as we are!
From our experiences this is the best bang for your buck as far as fully inline rotational fly tying vises are concerned. You simply won't find a rotary vise of this quality anywhere near this price point!
To purchase please visit the store here >>> I Want a Danvise! <<<
Tight lines & good times! 😀
---
*** do you have a fishing or outdoors related product that you would like us to review on flyguys.net? Just email us with your idea and we will reply in short order!
*** for more flyguys.net original product reviews please hit up our complete product review list here!
---
---
Like our stuff? Subscribe by
Feed or

Email