Fly Line Review
Scientific Anglers Cold Water Intermediate
Intermediate (slow sink) lines have their niche within the arsenal of the Stillwater angler. Although some shallow water  situations can be reasonably managed through the use of either a floating or intermediate line, there are times when the intermediate line is a clear choice (there is pun to be pardoned there, you will learn). Granted, it is not when trying to fish patterns motionless, but when presenting patterns that require reasonable retrieve speed, intermediate lines offer some distinct advantages. Keeping your fly from being pulled from depth upon employment of a stiff retrieve is but one. In conditions such as constantly changing wind direction (moderate to strong), anglers will find that the use of an intermediate line will allow them to retain much greater control over the presentation the fly, rather than have their line be swept fore and aft as happens to floating lines under these conditions. Their perfect for fishing damsel nymphs, mayfly nymphs, leeches and scuds in shallow water. Because this line is transparent and has relative low density, I would guess it would be ideal for crawling patterns over marl, although I haven't yet had a chance to try the line for that purpose.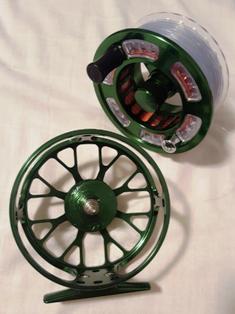 Trying to find a line with ultra low density but great fishability has proven to be a challenge for me as for many. I was very happy when I was requested to demo and review a prototype of the new Scientific Anglers cold water series clear intermediate slow sink fly line. Because of our exceptionally early spring, I missed the opportunity to try the line in truly "cold" water, such as what one might find at ice-off. By the time I found the right opportunity to test the line, water temperature was near 15*C. Water temperature often has significant influence on both sink rate and memory.
SA Cold Water Intermediate Fly Line Review | Equipment:
Rods: 10′ 5wt G.Loomis Streamdance GLX; 9′ 6wt Orvis Trident TLS
Line: Scientific Angler Cold Water Intermediate Sink – WFI6
SA Cold Water Intermediate Fly Line Review | Observations:
Memory
Pulled straight off the reel, the line exhibited moderate coiling. As I always do, I started to gently stretch sections of the line to tame the memory. The first thing that struck me about the line was how it felt when stretched. At first stretch, I'd wondered if someone had strung bubble gum on my reel! Ok, maybe I was pretty sure it wasn't gum, but the line has a stretch factor that initially caught me off guard, but was very effective in all but erasing any hint of coiling. Once in the water, the odd remnant of memory was visible, but not to any appreciable degree that would impact the line's fishability.
Castability
Another striking feature of the line was how sticky the line felt when dry, and how stark a contrast that was to the line after contact with water. That is not to say that it is not castable off the reel, but after wetting the line feels like you're holding on to the tail of a cobra; it just wants to go. It was fairly effortless to cast most of the line out (70'+?).
I don't fancy myself a champion caster. I'm sure one who's highly proficient could get the whole line in the air.
Sink Rate
The line is rated at 1.2-1.5″/sec. Although I didn't guesstimate the rate at which the line was sinking by my boat's edge, I did take note of how long it would take to contact bottom in various depths based on my cast distance.  In 12-15′ of water, I would perform an average cast, which by my estimate would lay out somewhere in the neighborhood of 70′. Employing a slow to moderate hand twist, I could keep the line off bottom the entire length of the cast, most of the time. In less than 12′, I had to keep casts shorter and retrieves quicker to stay off bottom. In greater than 15′, I would think the next higher density line would be serve the angler better.
In-Hand Feel
Terrific. The line was supple as I'd want in a fly line. This line has neat gell-ish feel when wet.
Line Weight
I'd say just about perfect. On my 5wt I would easily get long casts. It seemed really easy to get a long cast in few strokes, but it seemed difficult to gain much beyond what the rod was willing to chuck out in those first strokes. This is a classic overlining (6wt line on 5wt rod) trait.
On my 6wt, it seemed like the cast distance to effort ratio was a bit more linear. It actually took a bit of umph, but ultimately I could gain extra distance by higher effort.
Sensitivity
Great. Because of how supple the line is, takes are well telegraphed to the angler. On the particular day I was testing the line, all my hits were close to the boat. I did find myself wondering if the stretchiness of the line would compromise the angler's ability to detect soft strikes if they were to happen when a lot of line was out.
Longevity
I tend to use intermediate lines in limited applications. Consequently, my intermediate lines tend to last well, and thus I may not be a good judge of longevity. Hopefully, I'll get a chance to fish this line over a range of situations and be able to get a sense of what one might expect for longevity. For now, it will have to remain a future update for this review.
SA Cold Water Intermediate Fly Line Review | Conclusion:
All in all, I'd highly recommend this line. Strong points are castability and ability to erase memory through a gentle stretch. I can't identify any obvious limitations, but if I had to say I thought it would be easy to fish shallow (say maybe 4-5′) water with this line I might hesitate.
I'm frugal at times; What drives most of my consumer decisions is value. Given that longevity remains a question mark and I am unable to comment on suggested retail price, I can't speculate on the value aspect. At a reasonable retail price, this line would certainly be a worthwhile investment.
---
*** do you have a fishing or outdoors related product that you would like us to review on flyguys.net? Just email us with your idea and we will reply in short order!
*** for more flyguys.net original product reviews please hit up our complete product review list here!
---
---
Like our stuff? Subscribe by
Feed or

Email