I'm sure all you still water tiers are busy tying chironomids like me right now as ice off progresses!
Now there are certain things that I think we can agree on that we want to incorporate in our fly. We want segmentation of the body –  usually with a rib material. We want something to represent the white gills and also a red butt seems to induce strikes by fish. The problem is, unless you're tying some of the big bombers species of the interior, you want all this on sizes #12-#18! 😕
I often struggle to add these features and keep the fly from getting too bulky. This fly is my attempt at "less is more"!
Bare Bones Chironamo | Chironomid Fly
I found by wrapping a stripped peacock quill up the hook you are left with a segmented body of mahogany with a black rib. You cover that with loctite and the colours pop right out and you get the impression of depth in the fly. The paint markers give you bright white for the gills and a bright red butt that really stick out and calls to the fish. All this without added bulk!  Here's how I tie it ……. 😉
Bare Bones Chironamo Chironomid Fly | Material List: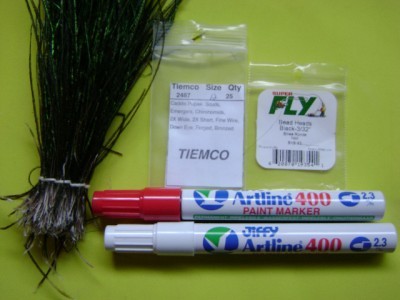 Hook: Tiemco 2487 size #12-#18
Bead: Black 3/32″
Thread: Black uni-thread 6/0
Body: Stripped peacock herl quill (covered in loctite 444…. Krazy juice!)
Butt: Red Jiffy Artline 400 paint marker
Gills: White Jiffy Artline 400 paint marker
 Bare Bones Chironamo Chironomid Fly | Tying Instructions:
Debarb hook and slide on bead.
Take 1 peacock herl and strip the feather from the quill using your nails or an  eraser.
Start your thread at the butt of the fly and tie in the quill by the tip.
Wind your thread forward to the bead and build a taper just behind.
Wind the quill forward..tie off ..trim and whip finish.
Coat fly with loctite or hard as nails.
Once dry use paint markers to put a dot of white on the top of the black bead and a dot of red on the butt.
That's it … give it the Bare Bones Chironamo Chironomid Pupa a shot!
……. Gord (Flyguys North)
---
*** if you're interested in custom tied, time tested &  proven effective BC Interior fly patterns, but would rather buy than tie, please Contact us  for details!
*** for more effective BC stillwater fly fishing patterns be sure to check out all of flies on our BCs best fly patterns index page!
---
---
Like our stuff? Subscribe by
Feed or

Email