Having the trip planed for April 6 for over a month now we were pretty disappointed to read in the ice of reports that sawmill was still frozen. We decided to go anyways since we didn't have any other options to go fishing that would offer the potential for good size fish like sawmill does so we wanted to check it out.
When we arrived we were happy to see that there were 2 big patches of open water around the aerators that extended all the way to shore so it was possible to launch the boats … so we did! 🙂
We had fairly good weather (overcast with sunny breaks) and a slight breeze from the NW. The Water temperature was 3C (36F) so having your feet in the water for more then 2 hrs. got challenging at times.
We started fishing at around 7 am on the W end of the lake. By 1pm we each landed 1 good sized fish and since fishing was pretty slow we decided to try the other open patch of water on the East end.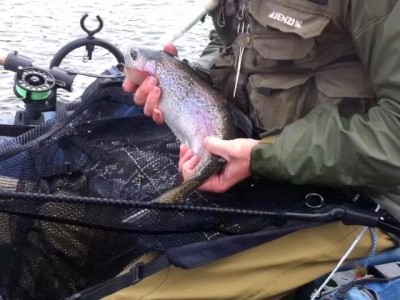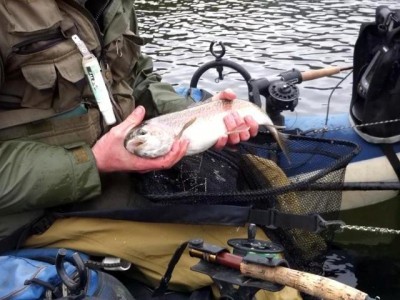 After launching the boats there it didn't take long for the action to pick up!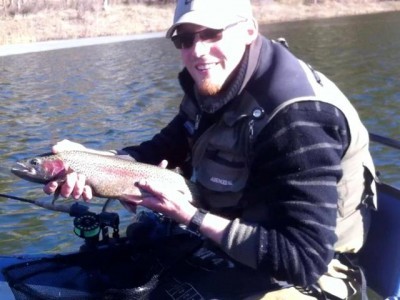 By 4 30pm we landed a total of 6 more fish all between 18 and 23 inches and an estimated weight of 2 to 4.5 lbs.The most productive pattern was a balanced leech size 10 2X fished under an indicator at a depth of 12 ft.
The majority of fish tended to hang out in a distance of 20 yards around the aerator in 40 ft. of water to then come up and take the suspended leech.
The other good spot was a steep weedy drop of from 6ft down to 24ft that the fish kept cruising along looking for food.
One down turn though is that the water was so cold that the fish wouldn't fight as hard as you would expect them to do. At times it felt like you were trying to pull up a bowling ball from the bottom of the lake so there were no acrobatics or long runs.
And here's a couple videos:
We had a great day on the water so for anyone that wants to sawmill is fishable and the bite is on!
Tight lines to all!
David Roskam (Fly Fishing Fanatics)
---
Like our stuff? Subscribe by
Feed or

Email