I don't know where the time went but before we knew it we found ourselves in the last week of May with FGN (flyguys North) in the house for a week of fishing at world famous Roche lake! On top of that Adam was back in town and itching to get out on the water so off we went on a three day marathon fishing blitz! Here's the report ………….
I don't know what's going on with the weather this year but the wind had been blowing steady for the past week and it didn't seem like it was going to back off any time soon … and it didn't! That said we were here to fish and fish we did! 🙂
As usual our adventure began with a scout of the lake to see where the action was. We were a bit concerned upon heading out as we noticed most boats anchored over deep water … something that we weren't sure FGN would be used to. We were hoping the fish would be in the shallows gorging on big chronies but our fears were confirmed and it seemed if we wanted to get into fish we would have to reach way down for them. Oh well, when in Rome …..
We located a section of water that contained a fair amount of emerging chironomid and sent down the anchors. A quick measurement with the forceps reveled that we needed over 20 feet of leader so out came the fluorocarbon and the knots started flying! Last but not least was to pick a fly, and as most of the chronies on the water appeared to be about a half inch long a #12 KKK was selected, tied on and sent below. Surprisingly, it didn't take long to hook a fish and quickly disperse the critical information to the boys in hopes that we could all get in on the action.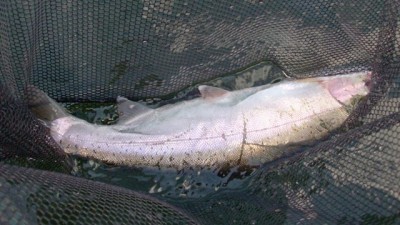 For about the next couple hours we were hitting them pretty steady but the size was not what we were expecting. We were keeping a close eye on how others were doing and it seemed that everyone was in the same boat (no pun intended 😉 ) Oh well we were having fun so we were satisfied but then, just like someone flipped a switch, everything came to a halt ….  except for one boat that not only continued to hammer fish but was landing some real monsters while everyone around him could only watch in awe and wonderment of the elusive secret bit of information that he alone had figured out.  Aside from the frustration, situations like this are a good reminder that just because what you are doing isn't working it doesn't mean the fish aren't eating and there is hope if you persevere to figure it out!
Day two and three brought the same conditions and day after day we sat in the deep water patiently waiting for the bite to start and taking full advantage of the fun while it was on … and when it was on it was on with multiple double headers, hard takes and rainbows that insisted to make us work to get them in the net! We had to go through a lot of fish to get them but every once in a while we were rewarded with a plump bow in the mid 20's! Our biggest bow of the trip was just under six LBS but we observed some real lunkers brought to hand by others around us!
During the lulls one or two of us would journey to the shallower water to check things out, and even though we did manage to pick up a fish or two while there, the hatches remained strongest in the deep stuff so that's where we continued to focus most of our time.
And while were at it here's the vid of Adam releasing his 5.5 …….
While we were there we were please to meet Dawn & Bob, whom we knew from the site but had never met in person. Talk about dedicated fishers … these two were on the water before we got there and usually still on it after we were gone! True flyguys(gals)! If we got the information right, on this trip both Dawn and Bob got their first ever deep water chronie fish and Dawn landed her biggest bow to date! When not chronie fishing, Dawn & Bob were picking up the bows with black & green leeches.
Congrats Dawn & Bob … it was very nice to finally meet you guys in person!
For us, the fly of the trip was the KKK chromie in size #12 and the technique remained holding it deep. We played around with other patterns & depths but always ended up back with the shiny silver bug on the bottom. Towards the end of the bite we found we could extend the action a bit by retrieving the pupa slowly interspersed with the occasional twitch.
On the last day of the trip we heard from a buddy that he had seen a few BIG chronies starting to show in the shallows but unfortunately we were out of time so the prototype bomber pattern we were hoping to test would have to wait. No worries … we'll be back! For anyone thinking of fishing Roche soon we would suggest that the those bombers will be present, and the fish on them, until the big caddis take over top billing some time around mid June to early July. As for us, I don't think we can wait that long. 😉
---
Like our stuff? Subscribe by
Feed or

Email