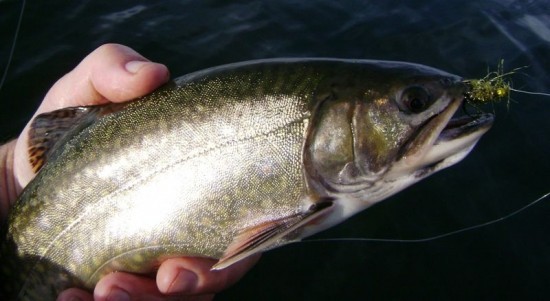 Decent fall weather this late in October, although not unheard of, is not the norm up here in the North. The leaves are long gone with only the smell of their decay to indicate they were ever here. But Friday had suddenly opened up for me, and with the threat of snow in the forecast, this would be my Last Chance to hit the water.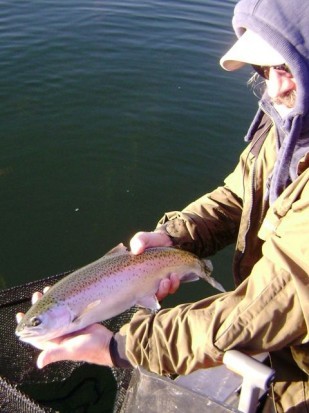 One more trip with the boat before putting her to bed nestled under her tarps and one more 2013 fly fishing report!
You've heard the expression sleeping with one eye open …well I seem to have the skill of sleeping with one ear open. It's pretty specific as can sleep anywhere, anytime and not much will roust me. But when I'm planning on going fishing any increase or decrease in wind velocity will wake me up for a brief moment. I tell you the wind in the North Peace has ruined more fishing days than I care to remember. So it was at 3:00 AM (only a couple hours after going to bed) that I awoke and realized the 30 KM winds had died down. I smiled to myself and rolled over to get a couple more hours of much needed shut eye. What seemed like seconds later it was up and at em … 5:30 AM minus 3 C  and nothing but twinkling stars and dead calm … Giddy up! 😀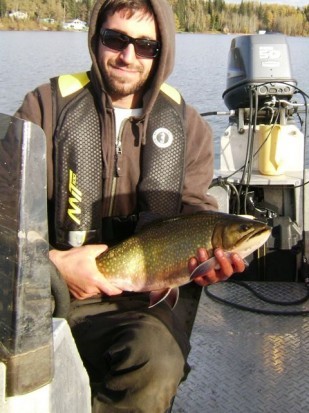 The sun was just peeking over the horizon when I got to the lake and was shining on the far side where I was planning to anchor by the Wall-O-Weeds. My son Timbre and I had been out here a couple of weeks earlier and had done a solid field test of the Bi-Polar Leech. With the results we had the plan was to start with a Midnight blue Bi-Polar leech under an indicator. I cast out, looked at it for 30 seconds and decided I didn't like the depth sitting just off bottom. So I hauled everything in, reset the depth to mid water amongst the 7 foot weeds and recast. I'm not sure the fly ever settled all the way down before the indicator disappeared. Fish on!Turned out to be a 4 lb rainbow and I remember thinking " Oh this is going to be a stellar day." Never saw another rainbow! What I did see was Brook trout and plenty of them!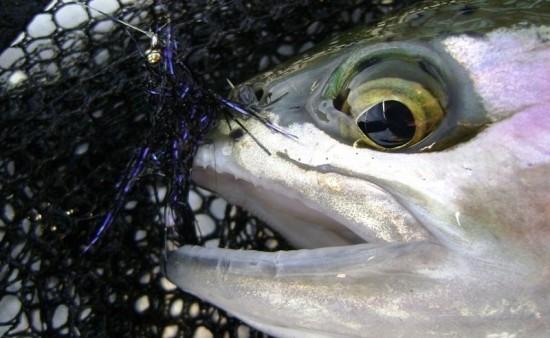 Had a great day casting and suspending Bi-Polar leeches with the Midnight Blue out fishing the green version 2-1. Also caught some on a suspended Blood Clot Bloodworm. Bright sunshine, water like glass and didn't see another soul all day. Lots of mental snapshots to cherish through the upcoming ice age.
P.S.  …  Four hours after tarping in the boat on Saturday it started to snow … sigh …
Gord,  FlyGuys Northern Division … Keep Calm, Fish On!
---
Like our stuff? Subscribe by
Feed or

Email