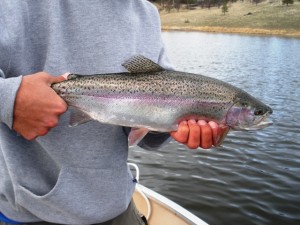 Another cold wet day but this time with a bit more 'to the boat' action than our last trip!
This particular Kamloops area lake sits at about 2900 feet and has been ice off for almost 3 weeks.  Within these parameters we were fully expecting to see some chironomid action but, although we did catch a few fish on  chironomid pupa patterns, there was no hatch present. Our guess is that the cold weather (water temperature was just under 40 degrees) kept any potential hatches at bay.
The action continued to be spotty despite flogging the water with the usual suspects for this time of year (read leech and shrimp patterns) but we were determined to figure it out … that is until mother nature decided to let us know it was time to head for shore as the sky clouded over, the wind began to howl and the snow started to fly!
Right before heading out we decided to use the throat pump on one of our victims and were very surprised with what we found: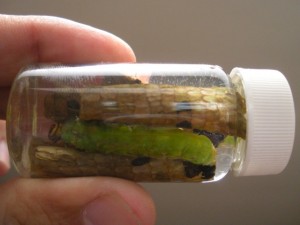 Yes those are Caddis Larvae! "Cased" Caddis Larvae to be exact! The Caddis Larva is present all year long, and therefore always available to fish but unfortunately we had not considered them as our first (or even second) choice for this time of year.  Too late now though! No matter, it was fun while it lasted and we'll spend the rest of the day at the bench tying up some patterns to match our days findings so we'll be ready when the opportunity arises again!
More pictures of the days events can be found on our gallery page!
That's all folks …….
---
Like our stuff? Subscribe by
Feed or

Email