Well it was a lazy Easter Sunday so I decided to take a drive and check out the status of Edith Lake. Edith is famous for it's large rainbow's and brookies AND it's close to home so needless to say I was anxious to see if it was ready to fish. When I arrived this is what I saw: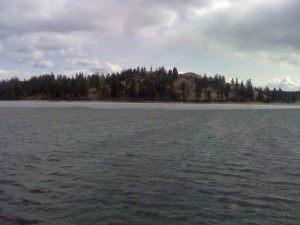 Yup that's water! The ice that is left is contained to the middle of the lake and my guess would be that she'll be wide open within a few days! You might not be able to see it in the picture but there is a boat on the far bank as well as a couple guys fishing from shore.
In the past I have had luck at Edith at ice off with micro leeches in olive and black/red as well as chironomids and blood worms. If you're trolling,  a wee dick nite on a medium sink line in the shallows has also proven well for me in the past. If you go, good luck and please post a report.
PS: A quick check using my BC Lakes on Google Earth link shows that Edith is at 3370 ft. Hmm, I notice that Red Lake is at 3115 ft. I Wonder where I should go tomorrow? 😉
---
Like our stuff? Subscribe by
Feed or

Email