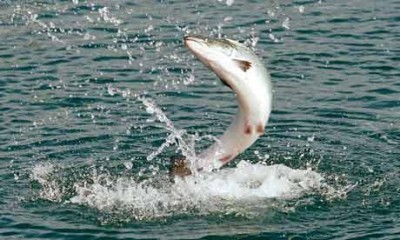 Salmon is the common name for several species of fish of the family Salmonidae. Other fish in the family are called trout. Salmon migrate while trout are resident. Salmon live in the Atlantic & Pacific Oceans. Of primary concern to BC flyguys is the Pacific salmon & the focus of this article will be to provide Pacific Salmon Identification information.
There are five (5) species of pacific salmon … the Chinook (AKA Spring / King / Tyee) Salmon, the Chum Salmon, the Coho Salmon, the Pink Salmon & the Sockeye Salmon.
Pacific Salmon Identification Chart (including Steelhead & Atlantic Salmon):
… for even more detail check out the Washington Department of Fish and Wildlife's Marine Phase Pacific Salmon ID Chart!
Fishing River Run Salmon:
Opportunities to river fish for Salmon are limited by yearly run numbers, accessibility & fishing methods. The freshwater salmon seasons are determined by the DFO on a yearly basis after taking multiple factors, conservation being first and foremost,  into account. When all the factors in play do allow for a season fishermen & women migrate to the river banks en mass in hopes of hooking into a few lunkers as they make their way up stream.
For some the scene is just too busy and they either opt out completely or head to the salt chuck where there's a bit more elbow room. Others that can stand the crowds, or do not have the means for oceanly pursuit of these amazing creatures, are quite content and happy for the opportunities that this fishery allows. It's an interesting fishery to say the least but we have always found the majority of people to be friendly and the experiences to be pleasant … you'll have to give it a try and decide for yourself.
---
Like our stuff? Subscribe by
Feed or

Email