Moose Quesadillas
– Mexican Style Venison –
This is one of my favourite kinds of meals to make, and even more so – to eat.
A venison based meal with a Mexican twist. Substitute Deer, Elk or Moose for this truly quick and easy meal guaranteed to satisfy even the fussy eaters in the family.
Oh, and be prepared to need a fork and knife, this is not your average Quesadilla!
Moose Quesadillas | Ingredients:
1 lb of ground Venison
2 Tbsp Oil – olive or grape seed
1 Tbsp Bacon drippings – reserved from last time you cooked bacon
1/3 med. Onion chopped finely
1 cube organic beef bouillon
3 Tbsp Taco seasoning
2 C boiling water
398ml Refried Beans – a can if you are in a hurry or you can soak and mash your own – warmed
Avocado or Guacamole
Roasted hot pepper sauce
Salsa
Black Olives – sliced
Grated Cheese – we use Mozza but Cheddar would be good too
Jalapeños – to taste, if wanted
Green Onions chopped
Tomatoes
Sour Cream
Whole Grain wraps/tortilla shells
Moose Quesadillas | Directions: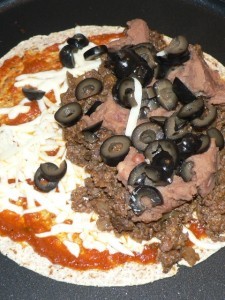 Heat pan, add oil and bacon drippings.  When oil is hot add the chopped onions and the ground meat.  Boil the water and pour it into a separate bowl with the bouillon cube and taco seasoning, stir if needed to until bouillon is dissolved.  Before the meat is completely cooked add the liquids and let simmer, uncovered, until the liquid has all cooked in. Place the wraps on a flat frying pan, like a griddle, spread with the pepper sauce all over.  Sprinkle grated cheese over the whole wrap.  Layer one half of the wrap with the meat and the beans.  Top the layers with the desired toppings.  Warm over low heat so cheese is melted and the wrap is lightly browned.  Fold the half of the shell with the cheese over top of the meat side.  On top of the folded wrap place any more of the toppings that you would like.
That's it ……. hope you like it!
……. Susan
---
*** got a fish or wild game recipe that you would like to share on flyguys.net? Just email us the details and we'll post it up for you!
*** for more delicious and organic BC wild fish & game recipes please view the complete list on our recipes index page!
---
---
Like our stuff? Subscribe by
Feed or

Email