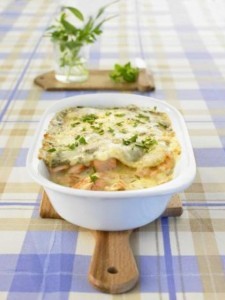 … another delicious salmon recipe straight from Susan's kitchen! 😀
Gourmet Salmon Casserole | Ingredients:

1 ½ C Salmon
450 g Pasta – I prefer Penne
5 C Water
½ C chopped Mushrooms
½ large Yellow Onion
3 Cloves Roasted Garlic
2 C Whipping/Heavy Cream
½ C Parmesan Cheese (grated)
1 C Mozzarella Cheese – shredded or cut into cubes
Salt & Pepper – to taste
1 Tsp Dill – dried (or to taste)
2 Tbsp Fresh Chopped Parsley (or to taste)
Butter
Olive Oil
Gourmet Salmon Casserole | Directions:
Sprinkle Salmon with salt & pepper. Cook covered over medium heat on pre-heated BBQ until Salmon easily flakes apart with fork.
Roast garlic on BBQ with skin on and bottom cut off to make removing from skin easier. After garlic is cool enough to handle, peel and cut into small chunks.
Cook Pasta al Dente in salted water and drain. Set aside.
In same saucepan used to cook the pasta, melt 1 Tbsp Butter and add 1 Tbsp Olive Oil. Once the Butter and Oil are heated sauté Mushrooms and Onion until soft. Add more Butter or Olive Oil if needed.
Add Roasted Garlic, Dill, Parsley and Salmon into pan with Mushrooms and Onion. Gently stir so the Salmon doesn't break into tiny pieces. Once mixed add the Cream. Heat over low heat, do not boil – the Cream will burn easily. Stir occasionally, letting the cream thicken. Add the cooked Pasta, ¾ of the Mozzarella and Parmesan Cheeses. Stir gently to mix. Pour Salmon and Pasta mixture into casserole dish. Sprinkle the rest of the cheeses on the top of the casserole.
Cover and bake in oven at 375 degrees until heated through. Remove cover if needed to brown cheese slightly.
And that's my Salmon Casserole recipe … enjoy!
……. Susan
---
*** got a fish or wild game recipe that you would like to share on flyguys.net? Just email us the details and we'll post it up for you!
*** for more delicious and organic BC wild fish & game recipes please view the complete list on our recipes index page!
---
---
Like our stuff? Subscribe by
Feed or

Email