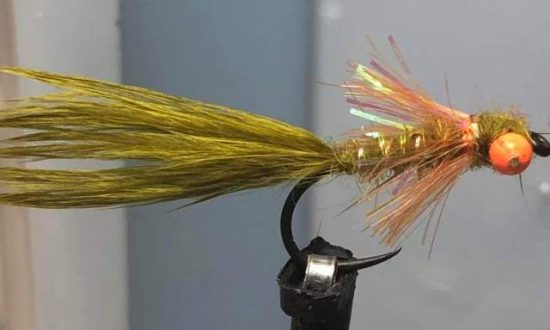 We were honored to have the one and only John Kent stop by one of our Kamloops tying sessions last week to give us the goods on his Hot Legs Damsel fly pattern! This is a great overall damselfly pattern, but it really shines during a heavy emergence (hatch) with it's "stand out of the crowd" characteristics. Materials list, tying instructions and even a tying video below so you've got no excuse to not tie up some of these beauties' and get out there with em … 🙂
Hot Legs Damsel Fly Pattern | Materials List:
Thread: Ultra 70 (or equivalent) – Olive
Hook: Daiichi 1760 #14
Eyes: Bead Chain – Xtra Small – Black or Orange
Body: Rabbit Dubbing – Medium Olive w/Pheasant Ice Dub
Tail: Marabou – Medium Olive
Legs: Palmer Chenille – Small – Orange
Rib: Wire – Small – Gold
Hot Legs Damsel Fly Pattern | Tying Instructions:
Place hook in vise & figure eight eyes behind the hook eye. (a drop of glue when done will help keep things secure)
Tie in marabou behind eyes and tie it down to the bend of the hook
Tie in wire rib along the far side of the hook.
Form a dubbing loop, fill it with dubbing, spin it tight & wind it up the hook to form the body. (Damsels are thin!)
Counter wrap wire rib up and tie off behind the eyes, remove tag.
Trim Palmer Chenille by about 1/3, tie in on far side of hook, wrap forward (only 1 wrap), tie off, remove tag.
Form a dubbing noodle (very sparse) & figure eight around eyes to form a nice wide/flat damsel head.
Whip finish
Hot Legs Damsel Fly Pattern | The Video:
A big thanks to John for sharing the pattern and his experience on the how, when and where to fish it! If you're interested in John Kent flies (and why wouldn't you be 😉 ) he can be reached via jhn.knt@gmail.com 🙂
---
*** for more, proven effective BC stillwater fly fishing patterns be sure to check out all of flies on our BCs best fly patterns index page!
*** if you're interested in custom tied, time tested & proven effective BC Interior fly patterns but would rather buy em than tie em, please check out store!
---
---
Like our stuff? Subscribe by
Feed or

Email