Whitetail Lake Fishing Vacation
– A Wonderful Week at Whitetail Lake –
Whitetail Lake  is located near Fairmont Hot Springs in the BC Rockies Region of beautiful British Columbia (see map below). Managed as a trophy fishery by the provinces Ministry of Environment the lake is very popular and generally productive. It's numerous marl flats provide excellent fly fishing opportunities with generous chironomid, dragonfly and mayfly hatches occurring from ice off through June and July. Leeches, dragonfly, damsels and shrimp are also abundant and productive. Camping facilities are available and amenities close at hand at near by Canal Flats. The following is a 5 day account that is sure to have you considering a Whitetail lake fishing vacation in beautiful British Columbia!  A big thanks to Don for sharing his story!  🙂
A Wonderful Whitetail Lake Fishing Vacation | Day 1:

We were lucky from the start.  The loaded truck and loaded trailer had never been tested.  But it came together fine just like Ken thought it would.  After an early start 4 am and a stop at Tim Hortons walk thru in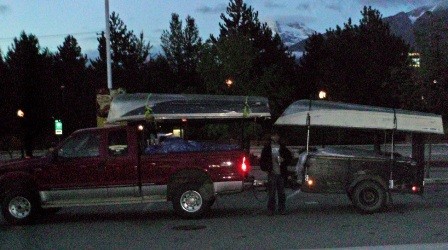 Revelstoke at 6 we made Golden in time for breakfast at Smitty's.  On the road again and we filled up in Radium.  One last stop for newspapers (fire starter) at the Hoodoos and we were almost there.  Once on the gravel road we made the traditional stop to have toast to a trout.  It had been rainy and overcast on the trip up so all the guys were in camp when we arrived.  Upon arrival I talked to Steve and he said, "Well, I've only been here one night and already been to town."  Apparently Steve has a 3 season tent and this must have been the 4th season.  His tent did not have a roof vent for the heat to escape, so when he woke up he was totally drenched.  Roger gave him a ride into Canal Flats and they tossed everything into the dryer at the local laundromat.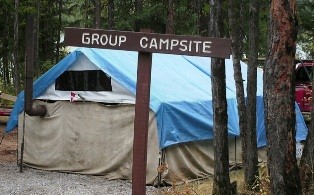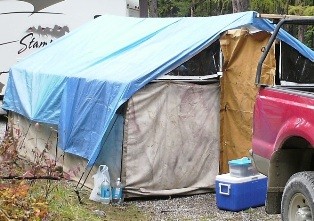 Back at camp Steve would be sleeping in Roger's Hotel Ritz.  The rain let up and we started to set up the wall tent.  Ken was in charge and was the only one who had done it before.  Everything went quite smoothly with all the help, except the placement of the chimney hole.  Once we figured where that went, it was just a matter of tying everything together and installing the wood stove.  Boy that stove puts out great heat; warms you until you sweat.  The campsite was a bit uneven but okay for two cots.
We got on the lake by about 4 pm.  Steve stole the show that day, catching about seven fish from his pontoon boat.  After he caught the first fish, he realized he forgot his net.  Roger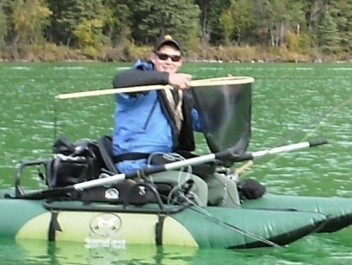 went back to shore and got it for him.   The pattern that did quite well for Steve was a black mohair leech with purple highlights and two beads on the front; red and gold.  The fly out fished all others on this day.  Steve hooked into a pretty big one and had Roger come over to take a picture.   Steve netted it, took out the hook and held it up.  A real beauty of a trout, about 24 inches.  Just as Roger was about to snap the photo, the fish did a final wiggle and slipped from Steve's grasp.  Roger took the shot of Steve's hands about a foot and a half apart and no fish.  Darn!  That would have been an excellent shot. Steve said that his heart was still pounding minutes after he let the fish go.
A Wonderful Whitetail Lake Fishing Vacation | Day 2: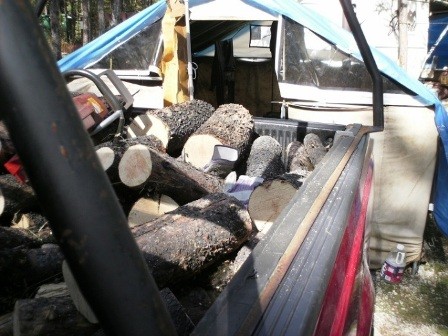 We got up early and had Ken Horton's breakfast sandwiches will special coffee.  Then we needed a supply of firewood for the  woodstove.  That took Ken and I a couple of hours.   After that was done, it was time to head out fishing.  Ken came up to me and said that he needed a hand.  I said, "okay".  He said, "My boat is full of water."  Then he said, "My boat is right full of water, to the top."  I went to take a look and sure enough it was just as Ken had said.  Well, all you can do is start bailing.  It took about half an hour but Ken got it bailed out and found out that the plug had come out.  He put it back in and we were on the water in search of the big guys.  I caught two fish that day; one on a damsel and one on a red bead still water nymph.  Not sure how Ken did.  As darkness closed in we knew it was time to eat.  I made up a Greek salad and Ken fried some jumbo prawns and garlic butter.  Yumm!  With out stomachs full it was time to retire to the wall tent and the cozy woodstove to discuss strategy about what worked and what didn't and of course, to have a few toasts.  The heat from the stove and the warmth of good friends soon had the eyelids drooping; it was time for sleep.
A Wonderful Whitetail Lake Fishing Vacation | Day 3:
There was a bit of humour to start the day.  As Steve was heading to the dock he was stopped by a neighbouring camper.  It seems there was some snoring coming from the area of Ray's tent.  It sounded a bit like a bear.  Well, the neighbour had a dog that was not so sure what to think when it heard this growling.  The dog's hair stood up and it stalked towards Ray's tent.  The dog's ears stood perked forward, then the bear sound came again from Ray's tent.  The dog emitted a low growling but backed away.  It knew this creature was not to be messed with.
Ken had forgotten to bring his cough medicine and there was none to be found on the way to Whitetail.  Robbie  was going to town for a few supplies and picked some up, so our sore throats were soothed.   Our day started with another round of breakfast sandwiches which I volunteered to make this time.  After breakfast, we all headed out to fish.  It was quite windy and I anchored behind the point at the next campsite.  I threw out a small green leech with a red bead under a strike indicator.  I was anchored in, ah man, so hard to tell in that lake, I guess about twenty feet of water, say fifteen.  The fly was about six feet below the surface.  I set the rod down and went to change my fly on the other line.  The first line had been in the water less that one minute when the strike indicator disappeared and a fiesty seventeen inch rainbow came leaping out of the water.  Without hardly trying, I had hooked my first fish of the day.  The wind was causing quite a bit of grief, so like most others, I headed back to camp.   As it was windy, I had been using the gas motor that my friend, Rick, had lent me.  It usually only takes one or two pulls to start, but for some reason, on this windy day, it was not complying.  The pull cord was not rewinding into the motor properly, either.  After about eight pulls, I was getting testy, so I really pulled and the pull rope came right off.  Now I was stuck with the old emergency method, of taking off the motor cover, wrapping the pull cord around the top of the engine and starting it this way.  It was a bit of deja-vu as I had done the same thing this spring when I had borrowed Rae's old outboard for Mabel Lake.  Using the emergency method, Rick's old reliable Evinrude started on the first pull and was quite reliable the rest of the day.  I just had to remember not to shut if off unless really necessary and use neutral instead.  After conquering the wind with the help of the gas motor I headed back to camp .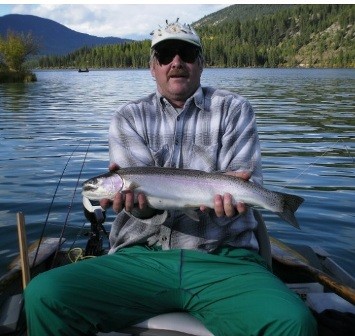 Steve was feeling quite sore from all the rowing and kicking of his pontoon boat, plus battling those huge trout.  When I asked him if he'd like to fish with me for the afternoon, a smile came over his face and he said, "sure".  I put the the front seat in the boat.  Steve sat in the seat, put his feet up and said, "this is better already."  It is quite relaxing to sit in the front of a boat and not have to worry about wind or motors.  Steve was enjoying himself as we motored down to the south shoal.  As we were drifting through Baillie Bay we saw some fish moving . We decided to anchor and try casting to them.  I had made about ten casts and was getting a bit thirsty.  I made a cast and let he fly fall behind me just near the point in deep water.  I set the rod down and reached toward the cooler.  The reel started to sing as the line raced through the guides.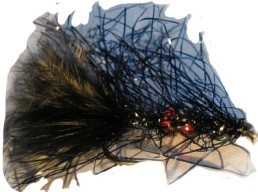 Luckily for me, the rod stayed in the boat.  I picked up the rod and had a second fish on this trip without even trying.  It was caught on a black polar chenille leech with two red beads mid body, that Rod at Kenkraft had tied.  That fly was to catch a few more fish over the next couple of days and will be one of the flies to tie this winter when the lake freeze and the dreams of warmer weather start.  After a while, we pulled anchor and trolled around and around, always near the point.  I managed to pick up two more fish on the same fly and had to thank Steve for bringing his good luck onto my boat.   Soon the sun was below the tall peaks and darkness was settling in.  We pulled the lines in, cranked on the outboard and headed back to camp.  Back at camp, it was steak and potato night with another a visit to the wall tent for a final warming of the body an a sample of some special spirits.  Steve was very generous with his samples but it did not agree with my palate.  I stuck with what worked best for me.   Again the warmth of the stove was encompassing and soon we were all relaxed as the heat worked it way down to our toes.  We were happy campers!
A Wonderful Whitetail Lake Fishing Vacation | Day 4:
Robbie was fishing with two lines out when he got a good strike.  The fish made a few good runs but finally came to the net. He picked the net up and set it on the seat and took a quick look to see where his other line was.  It was nearing some weeds and he did not want to let it snag so he picked up his second rod and started reeling in.  The fish in the net on the seat did a flip and the net and the fish went overboard.  Robbie made a lunge for the net and just about went for a swim.  His arm got soaked up to the shoulder but he got his hand on the net and he got his fish back.  It was a keeper about 22 inches long.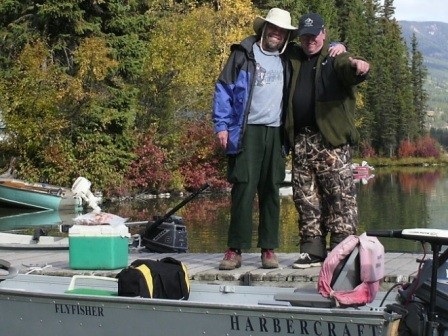 Ken had fished the morning by himself with not much luck and decided to try fishing with Ray for the afternoon. Neither person had much luck on this day. Kenny had one to the boat near the evening but it got off as it neared the boat. Kenny was getting a bit concerned about the skunking condition and had to take to smelling Roger's net to help him remember.
I went down to the far end and it was slow for me.  I caught one small fish.  Steve decided to drift down as the wind was blowing him in this direction.  As he drifted past a point (Steve's Point) he had a huge strike that hammered his fly.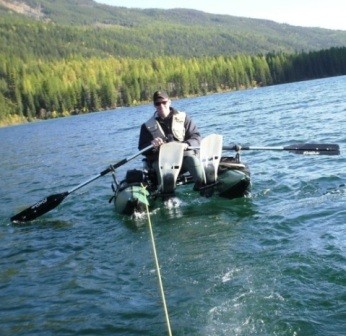 The fish made the reel scream as the line tore off the reel at a tremendous pace.  It was all over in a few seconds as the fish spit the hook and left Steve to wondering just how big it might have been.  Steve and I had fished the far end but he wind would not let up.  I noticed Steve trying to row back into the wind and could not imagine the time and energy it would take.  I offered to tow him back and he accepted.  After figuring out the speed and angle to tow at, we made our way slowly back.  We motored past Ken and Rae who had stopped in at campsite #6 for a break and a fire and they also scared up a blue grouse.  I towed Steve back t the campsite shoal near the beaver house and left him to fish the remaining couple of hours left in the day.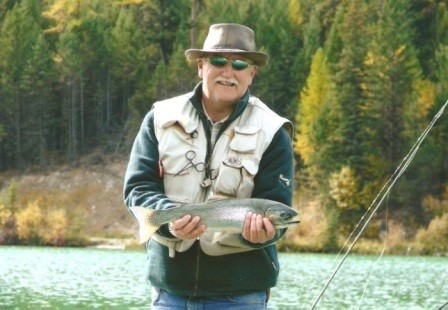 We all fished fairly late.  It was only dark for about one hour then the full moon came up.  It was amazing how bright it was.  If you had a flashlight on, it seemed like the moon would outshine it and the flashlight was hardly worthwhile.
We came in for dinner of sausage and Caesar Salad.  Roger told us of how he had caught two fish on the dry fly; an orange caddis.  Roger was the only one to try the dry fly on this day.
A Wonderful Whitetail Lake Fishing Vacation | Day 5: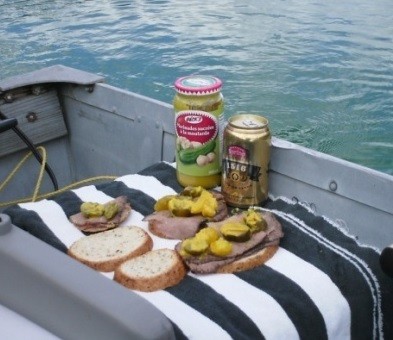 Ken was out of bed first, again.  He said that everyone is going out fishing right away before breakfast and he was going to join them.  For myself, once I get on the lake, I like to stay out there. So I had a quick breakfast, threw enough drinks and food into the cooler to last the day and headed out.  I don't remember much about how the morning went but I remember Ray fishing near the point across from the campsite.  As I got close to him, I asked him how he was doing.  He said he had caught a good one and released it.  His lucky fly was a white wooly bugger.  He had shown me the fly earlier and it looked like it had a lot of promise.  I did not have any but I had a similar pattern; a white muddler.    I stored that information away and told Ray I was going to make my way down to the south end.  I had seen fish in the shallow water at the south end and planned to try a small shrimp and a small mayfly nymph and row slowly through where I had seen them.  This was the area where I had caught Walter years earlier.  This method should have caught a fish but it didn't so it was time for plan B.  On my way into the shallow water, I had noticed what looked like a large fish in about twenty-five feet.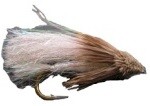 I put a muddler on a medium sinking line and Rod's leech on the intermediate line.  I was trolling through the deeper water, in about fifteen feet and a fish hit the leech.  The fish was not large but fought well.  It got close to the boat and started doing some head shakes.  It was causing me grief with its twist and shakes when the other reel started to sing.  Now I had two fish on.  The second fish was still pulling line out.  It seemed like it might be bigger, so I decided to set the first rod down and took the second rod from the rod holder.  The second fish made a good run and took out lots of backing.  I got some of the line back in but the trout didn't like that and the gained line was lost again.  This fish felt like a good size.  I still hadn't seen the fish yet and I was quite a ways into the backing.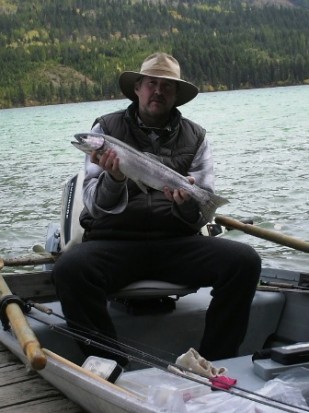 The battle continued and I gained quite a bit of line back and was actually into the fly line.  I thought I might be gaining the upper hand when Mr. Trout decided it was his turn in the tug of war.  The line peeled out again and the reel made that zinging sound we all love to hear but he was tiring and this time I reeled him close to the boat.  Now I had a glimpse of him and could see he was a contender.  The net came out.  Walter did a few rolls and I missed him with the net on the first pass.  On the second pass, he was tired and came to the net easier.  The front half of the fish filled the net opening and as I scooped it upwards the second half of the fish plopped into the net.  As I hefted Walter into the boat, I could tell by his mass, that this was a bigger fish and probably a keeper.  I took the muddler out of his jaw and laid him on the bottom of the boat.  It was definitely over twenty inches.  I had nothing to easily measure him with, so I laid out three fly boxes end to end and the fish was even longer than that.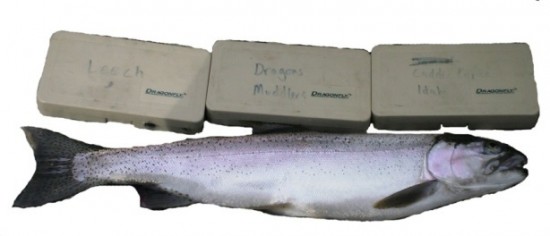 I now had time to bring the first fish to the boat and release it. I sat back and enjoyed the moment. The fish was a beauty. As I admired my catch, I wondered what I should do now.
I was thinking about Ken and wondering if he had caught a fish yet.  It did not take too long to decide that I should put the fish on ice and maybe talk to Ken. The guys were all back at camp except Roger who was still back at the south end. Steve came to the dock and I asked him to take a picture before I cleaned it.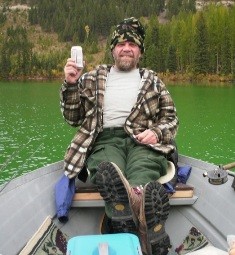 After the picture I went back on the water and cleaned the fish. It turned out to be a female with quite a few eggs. The meat was a nice orange colour though and all I could find in the stomach was a few small shrimp, just like Robbie's fish. I headed back to the dock and tied up and went in search of a cooler for Walter .When the crew saw the fish they were impressed and asked how big it was. I was not sure but Ken's big white cooler was right there and he said to lay it on top of the cooler as there is a built in measure on top of Ken's cooler. It was 24 inches, my biggest fish out of Whitetail. Ken gave me a block of ice and I added that to the block that was already in my old Coleman cooler. That cooler is 20 inches on the inside, so I had to lay the fish corner to corner and the tail still curled up .I was a happy camper and still had half a day to fish. I asked Ken if he would like to try his luck in my boat and he said "You betcha. " Ken loaded his gear into my boat and we motored down to the south end. I told him about the luck I had with Steve off the point and where I had caught the last nice fish on the deep shoal. We made a couple of passes by the point and ken picked up 2 fish , a smaller 12 incher that broke the curse , I think Ken kissed it , then a bigger fish about 16 inches . Ken was getting pretty comfortable now.
The same story was repeated; Ken caught 2 more, 1 small and 1 mid-size. We were slowly drifting past the point but no fish on that pass, as we pulled past the weed bed Ken's reel started to make that wonderful sound. He had a bit of trouble getting his rod out of the rod holder, but finally he was standing up in the boat with the fish attached to the end of his line. Ken said, "This fish feels like it might be a bit bigger."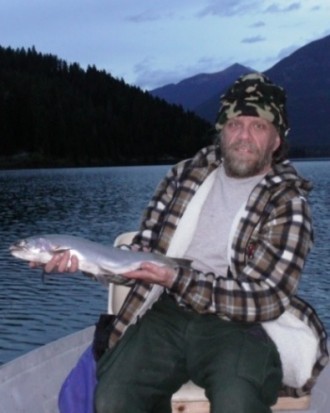 Once he got the fish a little closer to the boat and it wanted to run but the line was twisted on the reel. He had to pull the line out by hand as the fish made the rod tip bounce and Ken was worried that he might lose the fish. Another few dips and darts and the fish came close to the boat .It was time for the net. I netted it for Ken on the second attempt, then handed him the net. Once the fish was on board an instant smile came upon his face. This fish was a beauty. White bellied, silver sided and the blackness on the back like a small steelhead. Whitetail is a one fish lake and the fish must be over 20 inches long to keep it. Ken was smart enough to have a tape measure with him. After 4 attempts to measure the slippery devil we knew it was between 20 and 22 inches. Ken decided to keep it. Well the fun begins now. Ken likes to remove the gills right away as he says it keeps the fish fresher. The fish had been bonked by this time and was quite subdued. With all our gear in the boat the only flat surface left was my small cooler. Ken laid the trout on the cooler and its head hung over one end and the tail drooped over the other. Ken got out his deer skinning knife and proceeded to show me how to take the gills out of a fish. It involves blood. As a matter of fact, quite a bit of blood.   Anyway, after the carnage I told Ken his fish was too big for the cooler. It would have to go over the side on a rope or on the bottom of the boat. We decided it was cool enough out and the bottom of the boat was in order. There was hand shaking to be had and a few sips of celebration and smiles to be shared. After toasting each other we decided to fish a little longer. There were no more fish to fool and darkness was setting in. We cranked on the outboard and journeyed back to camp. A harvest moon lit up the sky to guide us home. We were admiring the 3 fish later in the cooler; my fish was on the bottom with Ken and Rae's on top. Rae's fish was the brightest fish just like a small Coho. We had another great meal, veggie platter, nachos, prawns and jambalaya. There was another edition of the hot stove league. It was a perfect end to a perfect trip; we hit our beds early as tomorrow we had to break camp and head home.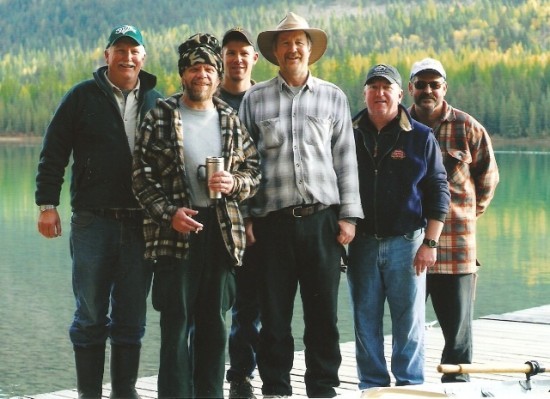 A Wonderful Whitetail Lake Fishing Vacation| Directions …
If you're thinking about where to go for your next British Columbia BC fishing adventure we highly recommend a Whitetail lake fishing vacation! 🙂
---
*** for more of the best in BC fly fishing hot spots please hit up & review our BC Fishing Vacation & Holiday Destinations category here!
---
---
Like our stuff? Subscribe by
Feed or

Email