Well it was now time to do some ice fishing! I was out doing a little exploratory mission on Williston Lake a couple of weeks ago and there was over a foot of good clean ice. The lake, on the Peace Reach, had frozen around mid Jan. during the real cold snap. I could see the slabs of ice angling down toward lake level. To give you some idea of the volume of flow that the Peace River is running at in the winter consider this: Williston Lake is 680 square miles and with ice cover there is limited evaporation. In one week the lake drops 14-16 inches! That's a lot of water folks.
I had a hockey game Friday night in Hudsons' Hope and the plan was to stay over and go fishing in the morning. With gas at $1.31 a litre it was cheaper to pick-up one of the affordable rooms at the Sportsman Inn than drive to and from Fort St. John.
I was up Sat. morning early and drove in the dark to my parking spot. I then  loaded the toboggan and headed out on the 3 km hike to the "spot". I've ice fished this area for 30 years so whatever the lake level I know the structure sub surface and where to punch my holes.
On arriving I sized things up and drilled my first hole. The ice was 18 inches and clean. I grabbed my little ice rod which has a swivel, a weight just above and a short 6 inch leader with a small circle hook. I had a small pearl and small red bead on the leader just above the hook. I dropped that in the hole to get an idea how deep the water was and as I was pulling it up started to get hits.
The depth was 10ft, a little deeper than I normally fish for rainbows, but with taps I put on a shrimp and dropped her to bottom. Didn't make it. Bam fish on and up comes a nice rainbow. Now compared to most lakes these are small fish ranging from 10 – 14 inches as a rule. A big one would be 16 inches. I re-rigged a shrimp and tried again maybe 2 seconds and another 13 inch rainbow. I was already 2/3 of the way to dinner,so I decided to drill another hole out a ways to intercept any bulls coming in looking for a snack. I left the hook in the first hole and before I finished drilling the second one I had another fish hooked taking the bare hook. It was undersized so I shook it off in the hole and let the hook and beads drop…..fish on. Who needs bait! In the next 15 minutes I hooked 12 -15 fish losing a bunch, releasing a bunch just legal , and keeping one more 14 incher for supper.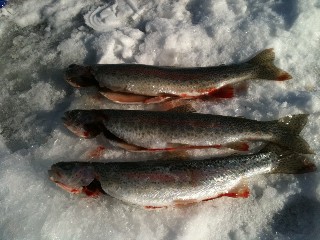 By now my hands were not working after being in and out of the water with no time to put on the mitts. I now had supper and didn't want to mess with the rainbows anymore so once the hands had thawed I rigged a big rod with a big chunk of squid and dropped it down the deep hole around 15 ft. Squid is great for bulls as it's not easily removed from even a barbless hook and sends out an oil trail throughout the water.
For the next three hours I sat and watched the rod tip dance as the rainbows pecked away at the squid waiting for that big pull of a bull. Every now and then I would pull it up and dropped the beads and hook down and sure enough within a minute another rainbow. There must of been some kind of herd under me.
The wind came up after lunch so I packed up and slogged back to the jeep. I'll be back before the end of March and try to hook one of those big bulls that must be circling that school of rainbows.
Gord, FlyGuys Northern Division
---
Like our stuff? Subscribe by
Feed or

Email