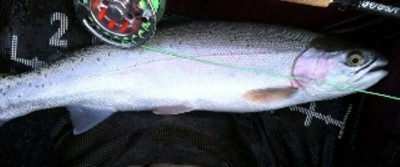 Over the winter Steve, my buddy Don and I discussed where and when to do a spring fish in the Southern Interior. We ended up with the last week of May ( this was the easy part) and somewhere around Kamloops. Both the boys had suggested that we  should get a place at Roche Lake and use it as a base camp. So when I asked the question to the "Home Office" all Rob said was " Do it." So we did and are we ever glad!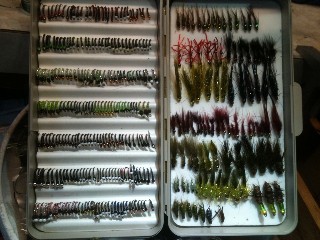 A week prior to leaving Steve contacted the the Roche lake resort to confirm our reservation. Kaitlyn got back to us right away and informed us she had upgraded us to a full pull chalet. Bonus! We arrived in Kamloops Sunday afternoon and stocked up on all the necessities for 5 days of fishing. It's a good thing I have roof racks! Monday morning found us yet again in Rob's driveway where he offered us his 12′ to use for the week. I'm beginning to take a shining to this guy. We got up to Roche, got the boats in the water and did a little exploratory mission prior to check-in. It appeared most people were anchored in a flotilla out deep or at the far end in the shallows. We got the lay of the lake, hooked up with Don then went into check-in.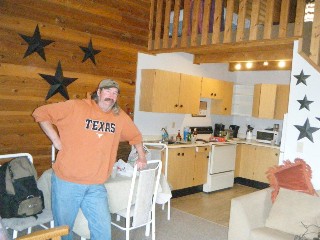 I gotta tell you those chalets were miles above and beyond what normally constitutes as fish camp for us. One look around the clean, modern chalet and we knew no matter what happened out on the lakes we could fall back to here and have stress free, enjoyable evenings. And we did!
Back to fishing, we were a little intimidated by the number of fishermen and the style of fishing. Up north most times we go fishing we are the only ones on the water. I commented to Steve that in those 3 days we saw more aluminum and pontoons than we'll see all year. The other thing that caught us off guard was the deep water chironomid fishing. Up in these parts deep water is 15 – 18 feet, but when we dropped anchor and saw that it was 30 -35 feet we knew there was going to be a learning curve. Two guys in a boat, windy conditions and that much leader is a tricky bit of business. I eventually ended up inching my line in and letting the wind drift it out. I'm sure Steve was happier. I'd like to say were slaying them like some guys out there (Rob, Adam) but we had moderate success and nothing big. We caught some in bays around 14 feet deep but you kept hearing the hollering of some guys out deep luring us back.
Tuesday Steve and I ventured out to try something different and ended up at Ernest Lake. We knew it had nice fish that were hard to catch but there was also some talk later that it winter killed. After 4 hours of no sign of fish I'm not sure but it's a pretty little lake, we had it to ourselves and there were some loons working it.
Fished Roche again the next day, windy and cool with pretty much same results as the first day. The action was on red/black, chromie blackrib, chromie greenrib and rootbeer green rib chironomids.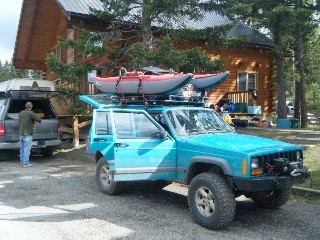 Thursday morning found us breaking camp (chalet) and hooking up with Rob and Adam who took us into Tom Campbell lake. We fished 3 hours and were getting the odd fish but Rob and Adam had to get back to town for a bit … did I mention that this was like day 17 in a row for Rob … those guys were fishing robots, here, there, everywhere! We decided to stay and fish a little more then broke down the tube and pontoon.We were cold , I was wet and quite frankly leaning toward getting  a room in Kamloops before going to Vernon for a weekend shaker with the boys. Once again Steve talked me out of with the solid logic,"We have all our camping gear let's go camping!"
We loaded up headed back the way we came then took a fork and followed some rock garden of a trail until we saw some water. We passed a couple of smaller lakes then came upon a good sized one, not sure what it was but we stopped. After setting up camp we had a couple of hours of daylight so out we went. It was just before dark, wind drifting a maroon/ black sparkle leech that I finally hooked a nice fish. It never jumped but was doing some crazy side to side runs around my tube.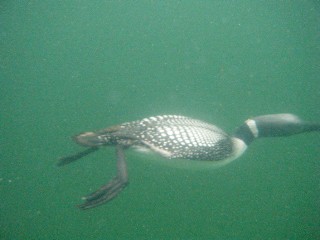 That's when the loon popped up. I landed it and at 22 inches, that fat silver slab I think was too big for the loon. It was probably just reacting to the flash.
We fished until noon the next day and both had good success with these hard fighting fish. Steve got a nice shot of a loon that circled his tube about five times waiting for him to release the fish.We're going to have to figure out what lake it was and maybe camp and fish it for a few days next year.
To sum it all up the weather was cooler and windier that expected and we didn't get into fish quite like we thought we might. All that didn't matter though because just getting out with buddies fishing is the main draw and whether in a tent or a deluxe chalet, life was good! Oh yea Dawn and Bob are you guys going to have a blast this weekend up at the chalet. Good on ya.
Steve and  Gord  FlyGuys Northern Division
---
Like our stuff? Subscribe by
Feed or

Email