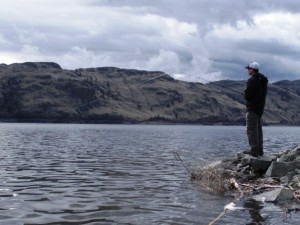 Well we had so much fun last time that we had to go back and try it again! Not even the rain and the snow that fell over night (and continued into the morning) could hold us back!
On arival at the lake it was cold, windy and the fishing was slow … although I did manage to catch a nice silver bullet on only my second cast! As the day progressed, however, the sun made an appearance, the wind calmed and the fishing picked up. The action was far from fast and furious, as it was last week, but all the fish were clean and strong. By the time we were done we had landed about a dozen spunky bows with the biggest at about 3 1/2 pounds.
Pictures of todays adventure can be viewed on the gallery page!
---
Like our stuff? Subscribe by
Feed or

Email