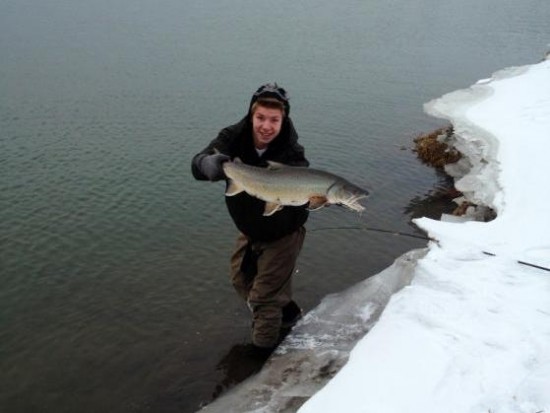 "Today ended up being very successful, I landed two bull trout, all on the exact same rig, on a retrieve instead of a bounce, the cause of this I don't know. But this weekend, I am going to find the answer to it!"…
This morning was one of those morning's were you walked to the rivers edge, could feel the cold harsh crisp of winter, biting at your nose and fingertips. It was peaceful, looking into the water for any sign, of some way to start and hearing the chirps of different song birds, from all around. Everything seemed still for a second, I noticed a school of white fish in the water, just about 20 yards away from me, than I seen the dark shadow emerge from the deep.
It seemed like this peaceful feeling was going to be broken by a force of mother nature, and just like she intended on it, all hell broke loose. The Bull Trout launched through the pool of whitefish, and smashed through the surface of water! For about 30 seconds it seemed like all hell broke loose. I wasn't ready, I still hadn't got my rod rigged up, nothing. So I just sat temperamentally and watched in astonishment, as this Bull Trout slaughtered a school of White fish.When I finally realized the or-deal was over, I grabbed a 2 ounce slinky, of off one of the loops on the swivel I tied a 35 lb leader, to a 2/0 Gamakatsu red, barbless hook, rigged with a couple of beads, a big neon orange spinning glow, and a glow in the dark 3″ hoochie. Today I planned on experimenting with bottom bouncing rigs. I tied on my main line to the second swivel, and I fired up stream. My rod bent with ease, as the slinky bounced along the bottom of the river. I had no hit on the bouncing part of it, so I started a very slow retrieve back to shore. My line was about 20 feet out in front of me when the monster hit, and I set the hook like it was the hardest thing to do.
Now keep this in mind, most bull trout, don't take off and do the big runs, and strip all of your line off of your reel. They like to dog, and head for the bottom. This fish though, as soon as the hook was set, he ran off every bit of line I had in my reel, than jumped with all of his might out of the water. He was on the other side of the river, and I didn't want to lose him, so I heaved and pulled, tried as hard as I could to tire him out. No he still wasn't giving up, he took yet another run, than another.
Once he was finally done running, I had him laying in the water below me, he was an astonishing fish, healthier than ever, and as colorful as they come for this time of year. I plunged my hands into the frigid waters, and got some pictures of my prize. Even though the winter seems to keep most anglers off of the river, I will continue to push on ward, for any river that isn't froze over, that big trout could be laying in that deep run. I will always look forward to the winter for it brings a new aspect to fishing, and the many challenges of catching fish.
Thanks … Dakota Mercer
---
Like our stuff? Subscribe by
Feed or

Email