Ice Fishing 101 | How to Ice Fish Kamloops
It's that time of year again folks. The hard water has arrived and it's time for some BC Interior Still Water lake ice fishing! And for those that are just starting out, here's a brief "how to ice fish" introduction to get you on the hard water and hopefully into some ice fishing fun!
We love ice fishing! You want to know why we love ice fishing? OK, I'll tell you why we love ice fishing. Ice fishing is one of those sports that almost anyone can do! You don't need a boat or motor or a truck to haul them both. You don't need a bunch of fancy fishing rods, fishing reels or fishing lines. You don't need an elaborate anchoring system. Hell you don't even need a large supply of flies or lures. It is simplicity at it's best AND it's something you can do with the whole family!
Now of course you could spend all the money you want on fancy gear as they make as many gadgets and gizmotrons for ice fishing as they do for any other sport. But this article isn't about that. This article is about ice fishing basics, ice fishing 101, or, in other words, how to have a blast pursuing big Kamloops area BC bows through the ice on a shoe string budget!
Ice Fishing 101 | How to Ice Fish | Safety First …
The subject of safety when ice fishing is important enough to deserve it's own post. Fortunately, we already have one for you. Please read our Ice Fishing Safety Tip & Equipment post before going forward. 😀
Ice Fishing 101 | How to Ice Fish | The Gear …
OK so lets get started with a list of the minimum ice fishing gear that you will need (all of which you can pick up at Surplus Herby's by the way!)  🙂
1) Something to make a hole in the ice. Most people use a 6 or 8 inch ice auger but you can get away with an axe. If you go with an auger we recommend the 8 inch cause it makes it easier to land the lunkers! 😉 The auger will be your most expensive piece of equipment but if you take care of it it will last you forever.
2) Fishing line: A small spool of 6 – 12 pound mono is all you will need.
3) Something to skim the ice out of the hole.  Check out the drawers in your kitchen & I'm sure you'll find something that will work! (think rice skimmer) 😉
4) Hooks: Size 6 – 10 in a bait style (if using bait) or a half dozen or so ice flies in the same size if not.
5) Weights:  Just big enough to sink everything (not required if using weighted ice flies).
6) Floats: Your standard old school red and white bobber will do the trick quite nicely!
7) Bait: If you're fishing a lake that allows it, a ring of shrimp, a container of worms or a package of maggots will do the job.
8) An old 5 gallon bucket. Recommended but not required but makes a great way to carry your gear and doubles as a nice seat once your there!
OK so now you're all geared up. 🙂 The next step is to check the stocking charts and pick a lake with some good potential. For more information on what's hot & what's not be sure to check out our fishing reports post and our facebook page!
Ice Fishing 101 | How to Ice Fish | Step by Step …
Either way once you've arrived at your lake of choice and made a hole it's time to rig up and fish. It's as easy as …
1) tying a baited hook or ice fly onto your 6 – 12 mono line,
2) dropping it all down to the bottom and
3) bringing everything up about 1 foot and attaching your bobber.
That's it! Your ice fishing!
4) When the bobber twitches you've got a bite – pull up to set the hook and continue pulling your catch straight up and out through the hole!
Here's a quick little video to show you what it should look like when it all comes together!
Ice Fishing 101 | How to Ice Fish | Additional Tips …
If you go a while with no bites you may want to try "jigging" your lure up and down a few times – the movement could attract near by fish. The amount of jigging depends … some days the fish want it sitting still and other days you can't hook a fish unless you're constantly moving the lure.
Depth is also something that can vary your success. Although most times very near the bottom seems to work best, at other times you may need to be closer to the top to be successful!
In both cases experimenting until you find what works is the key! Once you figure it out you could be in for a real treat as the action can be fast and furious! And who knows, if you're lucky you might even latch into a world famous BC trophy bow!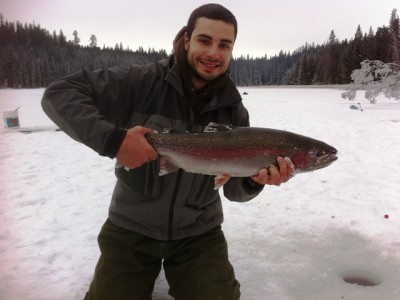 That folks is the ice fishing basics and all you really need to know to have some fun during the BC interior hard water season! Now get out there and catch some fish; and don't forget to send us some pictures of your catch for the site!
---
*** for more ice fishing strategies please hit up & review our ice fishing category here!
---
---
Like our stuff? Subscribe by
Feed or

Email